HCA Healthcare's spirit of compassion is for every patient and colleague.
When we say, "We show up," we are speaking for every colleague as dedicated to their community as they are to their patients. Campaigns like "Crush the Crisis," and Healthy Food for Healthier Tomorrows, plus the ongoing work of the HCA Healthcare Hope Fund, exemplify an enterprise that shows up — literally — and puts caring into action.
Healthy Food for Healthier Tomorrows
Smart eating habits are key to good health. Recognizing that a lack of consistent access to nutritious food can disrupt an active, healthy lifestyle, the Healthy Food for Healthier Tomorrows campaign aims to help communities address food insecurity.
"At HCA Healthcare, caring for others is ingrained in what we do," says Deana Campbell, development manager, Community Engagement. "We want to see people healthy and thriving. So when we have a chance to all join together and make an impact on the families within our community, our caregivers are all-in."
At the national level, the campaign has succeeded by any measure, with 370,000 nutritious meals provided to families in need, including 77,830 donated by colleagues, 52,000 from colleague charitable donations and 240,000 from $60,000 in grants provided by the HCA Healthcare Foundation (from a food sculpture contest). But much like "Crush the Crisis," the campaign's most recognizable results are happening at the local level.
"In Texas, one in eight people struggles with food insecurity, and that includes one in every five children," says Maria Martineau, AVP, Community Engagement, Medical City Healthcare in Dallas, Texas. "Those are staggering statistics. At Medical City Healthcare, we believe that Healthy Food for Healthier Tomorrows is one more way that we can make a genuine impact on those in need."
To accomplish that objective, Medical City supports two local food banks — the North Texas and Tarrant Area food banks — along with numerous food pantries. Colleagues at Medical City have donated 130,000-plus 
meals to 13 different food banks and pantries.
"We're confident that we're making a difference in the lives of thousands of people," says Maria. "Our participation in Healthy Food for Healthier Tomorrows complements the long-standing nutrition education efforts of our award-winning Kids Teaching Kids program; it teaches healthy snacking habits to more than 20,000 elementary school students each year."
Promoting healthy lifestyles, a stated goal of HCA Healthcare, is also one of Medical City Healthcare's three community engagement priority areas, says Maria. "We're so proud that the Healthy Food for Healthier Tomorrows drive and sculpture contest has become an integral part of our work. We're an organization of caregivers, and, at Medical City Healthcare and across our 16 hospitals, our colleagues responded to this call for help with great passion and enthusiasm."
We're confident that we're making a difference in the lives of thousands of people,

— Maria Martineau, AVP, Community Engagement, Medical City Healthcare, Dallas, Texas
The opioid addiction crisis is pervasive, troubling communities nationwide. HCA Healthcare's "Crush the Crisis," campaign is a tangible solution to a complex and often overwhelming epidemic, giving communities a safe, convenient option for properly disposing of expired or unused prescription medications.
On Oct. 23 last year, close to 100 HCA Healthcare facilities in 17 states participated in the annual "Crush the Crisis," opioid take-back day. A record 15,566 pounds of meds — equaling roughly 10.7 million doses — were collected, "crushing" the previous year's total of 13,523 pounds.
Those are enterprise wide figures. But the true impacts of  "Crush the Crisis" collection events are felt profoundly within our communities. According to Aimee Bennett, director of strategic communications at West Hills Hospital and Medical Center near Los Angeles, Calif., this past fall was the first collection at her facility. "We really were not sure what to expect," she says. "The morning of the event, we set up a drive-through drop-off in the parking lot behind the hospital."
The team distributed flyers in the community, and five volunteers arrived to partner with police for the event. The results exceeded expectations. The West Hills team amassed nearly 350 pounds of unused and expired medications. Out of the 96 HCA Healthcare facilities that participated, West Hills ranked in the top 15 for most meds collected.
"Our local law enforcement brought 30 collection boxes, and I remember thinking that was too many," says Aimee. "Then, the drops-offs began and just kept coming. At the end of the day, we were down to four empty boxes. We had filled 26."
Events like "Crush the Crisis," also remind colleagues that they're part of a larger healthcare family, even with HCA Healthcare headquarters being more than 2,000 miles away in Nashville, Tenn.
"Participating in this event made us feel like part of the team, and we felt very connected," says Aimee. "Together, we make a big difference."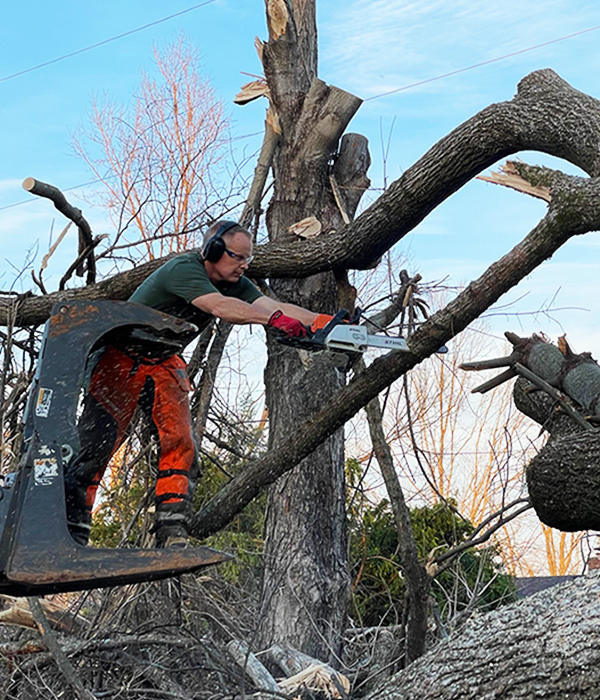 Tornado Relief and Assistance
Sometimes, care takes the form of emergency response. In the early hours of Dec. 11, 2021, a major storm spawned especially violent, long-tracked tornadoes that tore through Bowling Green, Ky. The full extent of the damage became apparent at sunrise.
"The devastation to Bowling Green and the surrounding area was heartbreaking," says Mike Sherrod, CEO of TriStar Greenview Regional Hospital. "Many people lost their homes, and even more were displaced. TriStar Greenview was extremely fortunate to have only suffered minor damage to the hospital's exterior. Less than a mile away, the damage was catastrophic."
While the hospital and affiliated facilities were spared the worst of the storm's fury, colleagues immediately addressed patient safety while the leadership team coordinated the hospital's complex response. Physicians and nurses in the emergency department and surgical services volunteered to stay late, arrive early or come in on their day off to help.
"The tornadoes affected many of our colleagues in different ways," says Brittany Durham, the hospital's vice president of Human Resources. "We're fortunate to be part of an organization that prioritizes assisting colleagues who have experienced such a devastating, unexpected event. Within hours after the tornadoes hit, we were able to help colleagues apply for financial assistance through the Hope Fund."
HCA Healthcare donated more than $250,000 to local relief efforts. The tornadoes also exacerbated a significant blood shortage. TriStar Greenview partnered with Blood Assurance to host a weeklong blood drive at the hospital. The first blood drive began at 9 a.m. Sunday; by 8:30, 40 people had arrived to donate.
"In the immediate aftermath of the storm, people were looking to help in any way they could and found their way to the blood drive," says Mike. "In the three days following the tornadoes, 210 units of blood had been donated."
TriStar Greenview officials kept in constant communication with Mitch Edgeworth, president of TriStar Division, and Jon Foster, president of the American Group, ensuring the hospital had ample resources.
"Our division and corporate leadership were attuned to the situation as it developed and did not hesitate to contact us immediately after the storm passed," says Mike. "The constant theme running through those conversations was, 'How can we help you?' That's leadership. That's stepping up when your colleagues need you the most."