From the U.S.A. to the U.K., HCA Healthcare's mission never wavers.
It may surprise you to learn that our presence goes beyond the U.S. — across the Atlantic Ocean to the United Kingdom. With a world-class network of hospitals and specialist clinics, HCA Healthcare UK serves London and Manchester, England — and is a leading private provider of healthcare services alongside the National Health Service (NHS).
Since 1948, the NHS has operated as the U.K.'s publicly supported healthcare system (funded through general taxes) in England, Scotland and Wales.
While these independent organizations are structured and run very differently, HCA Healthcare UK and the NHS serve the greater good and share a spirit of cooperation when caring for the population. At no time in recent history has that been more evident than during the ongoing COVID-19 pandemic.
Tapping a wide range of resources, including people power, HCA Healthcare UK has been, and continues to be, part of the international response to COVID-19. Our U.K. colleagues have assisted the NHS in many ways, including:
• Providing expertise in the form of dozens of staff temporarily working at NHS facilities, who responded to a variety of needs
• Loaning hundreds of pieces of critical-care equipment such as ventilators to NHS partners to support their intensive-care capacity
• Delivering time-critical care on behalf of the NHS and to privately funded patients
• Delivering care in specially created "clean" facilities so NHS patients who do not have COVID-19 can be securely quarantined from infected patients
The cooperative spirit between the NHS and HCA Healthcare UK is a testament to "not only the hard work and expertise of our teams and consultant colleagues, but also a testament to the [organization's] ethos that puts safety at the heart of everything we do," says John Reay, President and CEO of HCA Healthcare UK. He describes being "overwhelmed but not surprised" by the commitment of colleagues willing to transfer to other work sites during the height of the pandemic.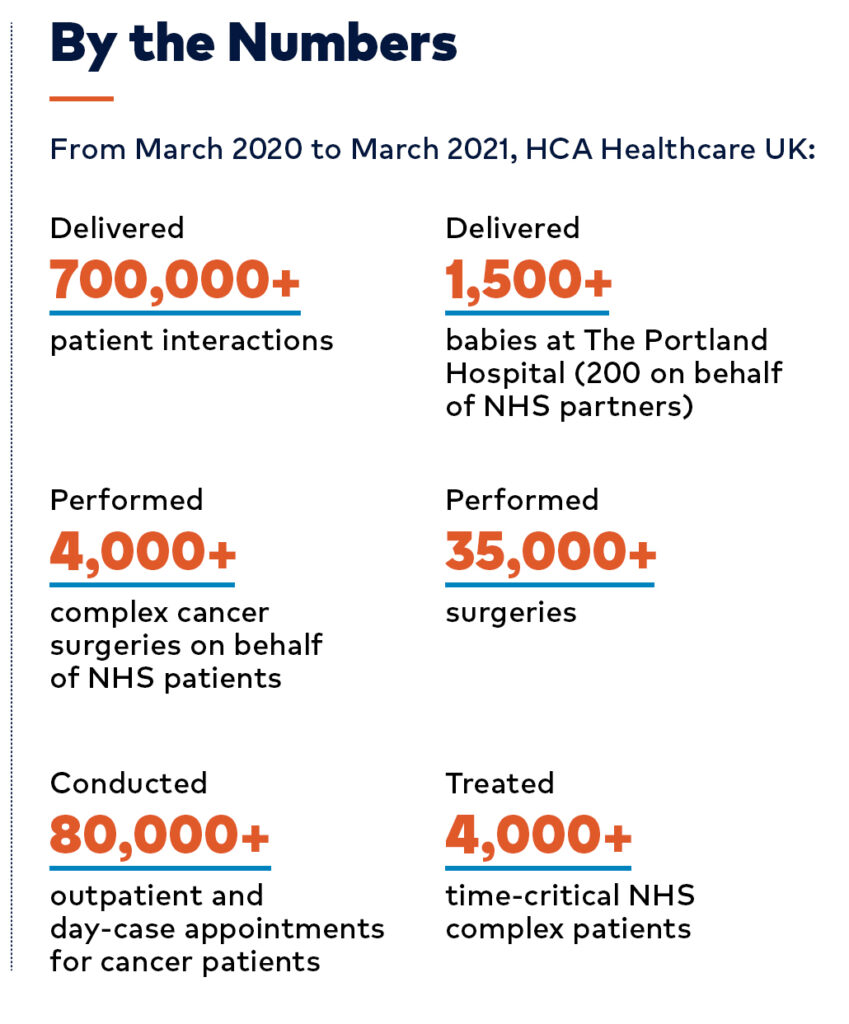 "This care could continue because we adapted and responded quickly to provide the safest environments for care, even against the most challenging of backdrops. This also meant that we could support the NHS to the fullest extent.
"We are confident, but not complacent; we know that many patients are still anxious about coming into the hospital for care. We want to reassure patients that, while our hospitals and clinics may look a little different when they return, our teams remain unchanged in their dedication and ability to provide outstanding care."
The "Walk" That Started in the U.K. Ends in Nashville
After the pandemic's stay-at-home orders, what better way to encourage HCA Healthcare UK colleagues to reconnect and promote general well-being than a friendly competition?
The Walk to Nashville challenge encouraged colleagues to get moving, be active and get in touch once again. It was organized in tandem with the popular well-being app Ondo, which promotes healthy habits through like-minded social communities.
Teams were formed — more than 70 names were suggested — and during June and July, steps were logged. At the end of the eight weeks, five winners were chosen. The prize? A trip to Nashville, Tenn., in 2022 to sample what the famed Music City has to offer, including a visit to HCA Healthcare headquarters.
Together, the walking teams took nearly 90 million steps, with the highest average count for a single facility coming in at just under 500,000. Deepa Patel, Personal Assistant to the Medical Director at Joint Ventures-South, walked the most steps individually: more than 1.5 million!
Nicola Gillis, HCA Healthcare UK's Vice President of Human Resources, says: "It's been delightful to see how this [event] has brought colleagues together to share their experience, motivating each other and encouraging a competitive spirit."
The winners were equally pleased.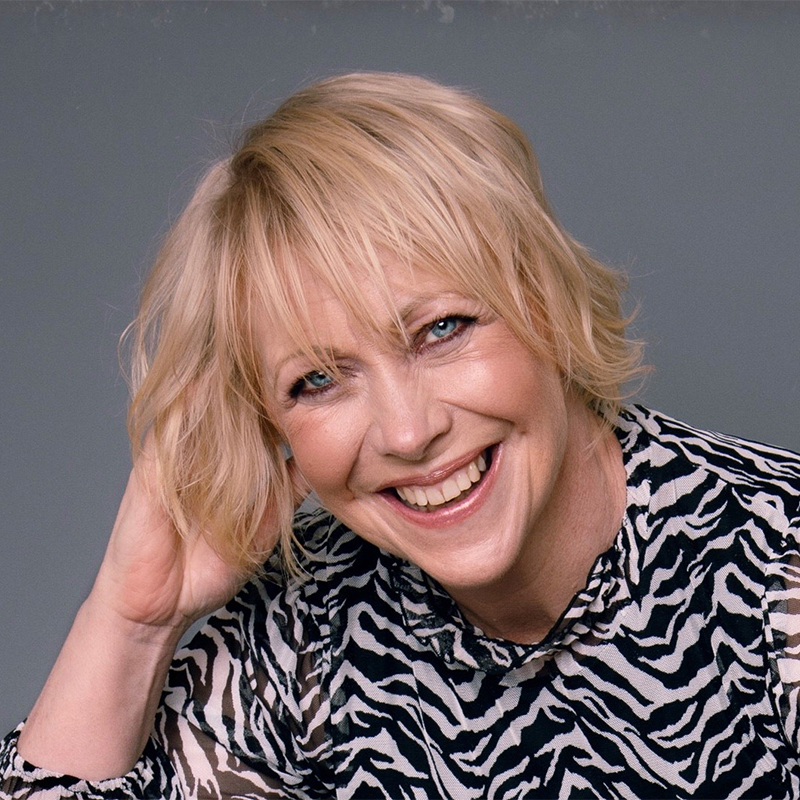 "It was great to see so many colleagues posting photos, videos and updates on Ondo during the Walk to Nashville challenge. It really reinforced a sense of belonging. It was an absolute surprise to be told I was a winner! I'm very excited to visit Nashville; it will be my first trip to the States. I'm hoping to buy a pair of real cowboy boots, and I'm looking forward to meeting some of my HR colleagues at HCA Healthcare U.S."
— Amanda Buckley, HR Business Partner, Corporate-Prestatyn
"It was a very enjoyable experience, exercising while at the same time counting your steps. When I first received the email, I was shocked and thought it was a joke until the senior management team of London Bridge Hospital started to congratulate me. I couldn't believe that I had been picked as a winner. It will be great to see all the sights of Nashville and maybe even see an NFL game or just the stadium."
— John Garrett, Senior Staff Nurse, London Bridge Hospital
"The challenge started as I returned from sick leave for fracturing my ankle — it helped me stay motivated to walk through the pain. It was a good experience, reading people's posts on the Ondo app, and it helped the HCA Healthcare UK family feel connected. It was a big surprise to see my name picked; I cannot wait to go to Nashville."
— Emily Waweru, Staff Nurse, The Portland Hospital
"When I joined the challenge, it was very real for me. I needed to have the right attitude, strength and discipline in doing the steps every day. I made sure that I reached my target of 20,000 steps a day whether I was at work or not, rain or shine. This will be my first visit to the USA, and I am looking forward to experiencing Nashville."
— Antonio Vicente, Healthcare Assistant, The Harley Street Clinic
"The Walk to Nashville challenge was a great way to bring together colleagues from across HCA Healthcare UK whom we may never have met otherwise. I was so surprised to find out I was one of the lucky winners. It's a once- in-a-lifetime opportunity, and I am so excited to see all there is to see. Colleagues who have visited Nashville have told me that the food is particularly good, so I am really excited for that."
— Eleanor Holder, Revenue Finance Analyst, Corporate-Prestatyn
For a closer look at what HCA Healthcare UK is all about, visit HCAhealthcare.co.uk.