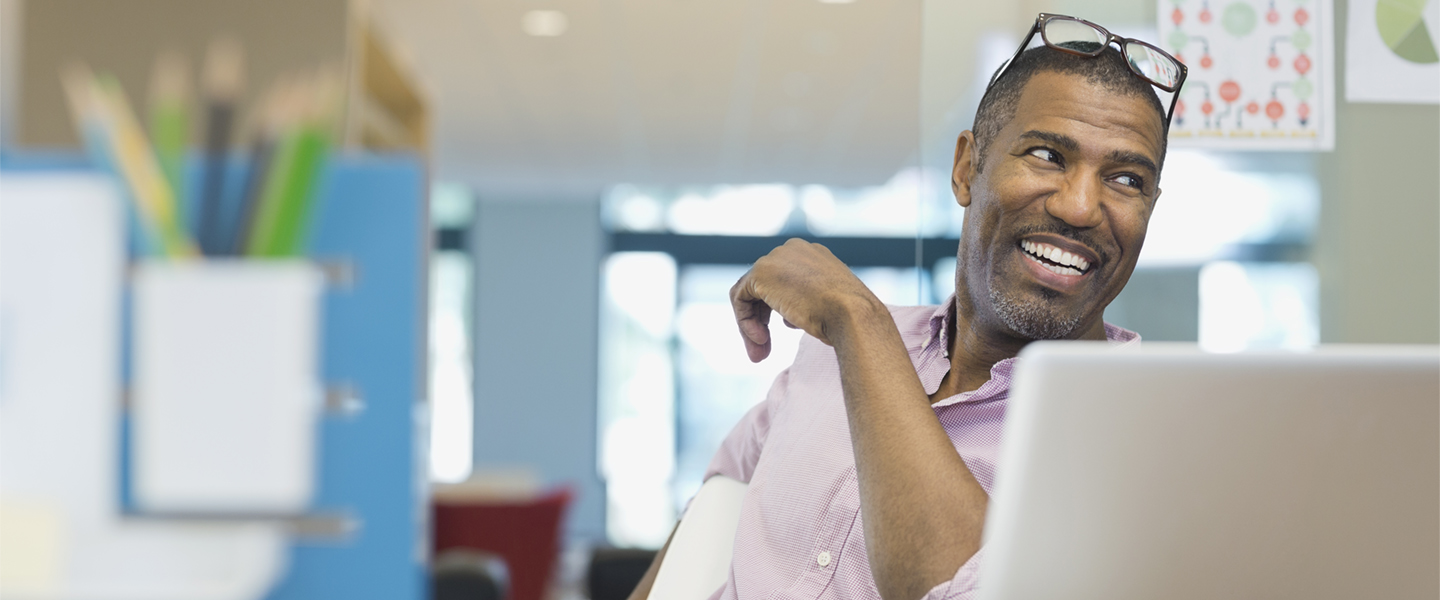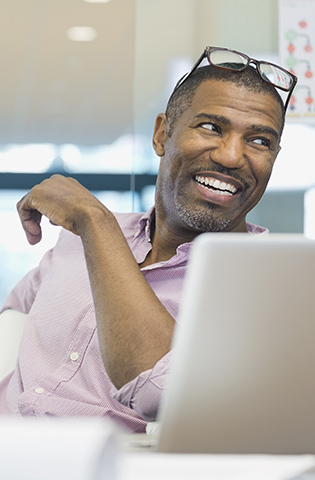 These free and simple stress-management hacks can put you on the path to a calmer workday.
Sometimes there's no avoiding stress at work, especially during a pandemic. It comes with the very nature of our jobs. But if you can manage your stress during a shift or workday, you're better able to care for others. It will even benefit your immune system. Here are five tips to help you de-stress and turn your workspace into a refuge.
1. De-clutter
Too many objects in a disorganized space can cause anxiety. A lot of stuff on your workstation could make it harder to do your job. That's because a space in disarray makes your brain less effective at processing information, thus more prone to frustration. Clearing your desk or work area creates both literal and mental space. Make a habit of clearing your computer desktop and your physical desk at the end of each shift/workday.
2. Listen to soothing sounds
Grab your earbuds and select a calming playlist. Studies have shown a direct link between music and our emotions, which makes it an extremely effective stress-management tool. Relaxing music can slow the pulse and heart rate, lower blood pressure and decrease levels of stress hormones. If you are unable to listen to music while you're working, try to incorporate music into your breaks or before or after work.
If you're feeling adventurous, try a sound bath. Sound baths produce sounds that are more open and dronelike, and less structured, than traditional music. Sound is created with a variety of overtone-emitting instruments, such as tuning forks, gongs, crystal singing bowls, chimes and voice.
3. Leave your desk
Get up and take a 10-minute walk. Sometimes, just moving around can help clear the mind. If darkness prohibits walking safely outside, then walk up and down a stairwell or visit a different floor, department or unit in your building, if you are able. Both physical exercise (such as jogging, cycling or walking) and meditative movement (such as tai chi or some forms of yoga) can alleviate tension. There are even a number of free 10-minute yoga routines offered on YouTube.
4. Breathe with intention
Focusing on your breath can lower your heart rate and calm the nerves. Controlling your breath by practicing a breathing pattern can reduce anxiety. Try this: Inhale deeply for four counts, hold your breath for seven counts, and then exhale slowly and fully for eight counts. Repeat.
5. Make post-work plans
Sometimes, there's just not a lot of time in the workday even for short breaks. On these days, motivate yourself with a promise to do something fun—or relaxing—after work. Whether your post-work plans include an outdoor workout, a socially-distanced get-together with friends or you-time in a hot bath, having something to look forward to can help you get through those tough moments. Plus, engaging in fun activities can help you maintain a more positive attitude and ward off burnout.
Additional Resources
Nurse Care
HCA Nurse Care is a program to help all HCA Healthcare hospital-based nurses with achieving work-life balance, managing stress and anxiety, promoting self-care and handling common nursing issues. It gives nurses remote access to licensed psychologists, social workers, alcohol and drug counselors, and marriage and family therapists. HCA Nurse Care is free, confidential and available 24/7 by calling 800-480-1234.
Beacon Health Wellbeing Program
With the Beacon Health Wellbeing Program, colleagues can schedule confidential phone or video call sessions with a licensed counselor. Qualifying family members also receive no-cost sessions. Inquire for further details.
HCA Healthcare colleagues can learn more at HCAhrAnswers.com (click HCA Rewards and search EAP) or by calling 800-434-5100.
The HCA Healthcare Hope Fund
For our colleagues who experience changes in financial circumstances and show a demonstrated need, the HCA Healthcare Hope Fund stands ready to help. In 2019, the HCA Healthcare Hope Fund provided more than $7.5 million to more than 2,900 HCA Healthcare families in need.
Psych Hub
In April, HCA Healthcare joined a coalition spearheaded by Psych Hub, which recently debuted a free, national COVID-19 Mental Health Resource Hub. This groundbreaking collaborative effort joins together the leading mental health advocacy groups, healthcare industry partners and the U.S. Department of Veterans Affairs.
Doctor On Demand
Doctor On Demand is currently available for all HCA Healthcare colleagues and their dependents, with a $0 copay. This 24/7 telemedicine app allows you to meet with board-certified physicians via video on a smartphone, tablet or computer to review symptoms and medications and get recommended treatment options. In addition to addressing colds, sinus infections, and skin and eye conditions, physicians can also provide care for anxiety, depression and stress, among other concerns.
Crisis Support Lines
The following toll-free lines are available 24/7 to the public to offer support and resources to HCA Healthcare colleagues and their friends and families impacted by the COVID-19 virus.
Aetna Resources for Living: 833-327-2386
Optum: 866-342-6892
HCA Healthcare Healthy Living Program
Get your mental and physical goals back on track through the HCA Healthy Living Program, which includes free access to a custom version of the Motivation Alliance platform, now featuring COVID-19 education resources and anxiety- and stress-management tools.
Bright Horizons Care Advantage
Bright Horizons Care Advantage provides free and unlimited access to programs to support colleagues looking for a babysitter, nanny, support for a special needs child, elder care provider, dog walker or a housekeeper.
National Suicide Prevention Lifeline
If you or someone you know are in a crisis, please seek help immediately. The National Suicide Prevention Lifeline (1-800-273-TALK) offers free, confidential, around-the-clock support for people in distress as well as prevention and crisis resources for you and others.