Laboratories play a major, if often unseen, role in the spectrum of healthcare.
The wonder — some may even say, the miracle — of medicine is that it is tangible. For the most part, you can see it. You can feel it. A nurse takes your vitals — temperature, blood pressure and so on — and then starts an IV. A surgeon makes an incision. Physicians examine and palpate the body to locate sources of discomfort. X-rays, MRIs, CT scans, PET scans and other diagnostic procedures produce remarkably clear images of musculoskeletal systems and internal organs.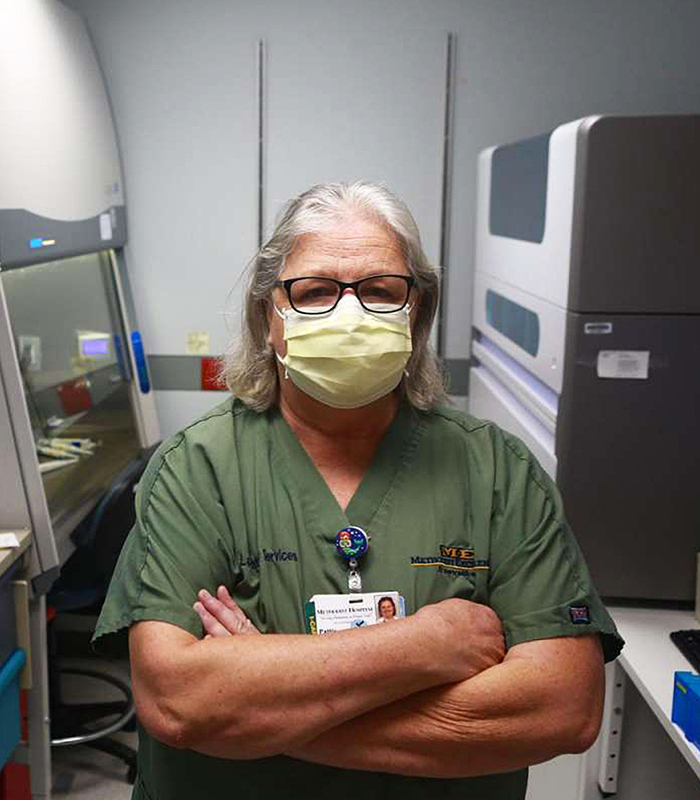 But there's another side of medicine that happens largely out of sight and out of earshot: Welcome to the laboratory.
Lab technicians take samples — blood, tissue and other specimens — and then disappear to do what they do. But their crucial work has just begun. Those samples undergo a battery of tests; some are much more involved than others, and the results can drive treatment and literally save lives.
"The work product of the lab is information," says Joanne Trout, MBA, MT (ASCP), president of HCA Healthcare Laboratory Services and CEO of HCA Healthcare Integrated Regional Laboratories. "It's one of the few areas whose contribution to healthcare touches nearly every patient and informs nearly every caregiver regarding patient clinical status, treatment needs and care progression."
In short, labs play a vital, if often unseen, role in providing top-quality care. In 2020, during the pandemic, HCA Healthcare's domestic labs and their nearly 9,000 colleagues performed more than 91 million procedures.
Often we are the physician behind the physician or the staff member behind the clinical care team. I personally realized [during the pandemic] how many people now know what the laboratory does and how the laboratory participates in healthcare. Patients, public news outlets, government and administrators all supported the lab more than I've ever seen.

— Heather Signorelli, DO, Vice President and Chief Laboratory Officer for HCA Healthcare Laboratory Services
Those procedures are so critical to patient care that every one of our hospitals and freestanding ERs has a dedicated lab on site. As in other areas of healthcare, it takes different people in different roles to ensure success.
According to Heather Signorelli, DO, vice president and chief laboratory officer for HCA Healthcare Laboratory Services, lab testing is predicated on the quality of the specimen, ordering the correct test and correctly interpreting results. "Our pathologists can provide key details on why a test may not be accurate during an acute event," says Heather, an HCA Healthcare pathologist since 2015. "Laboratorians are key partners in the care team."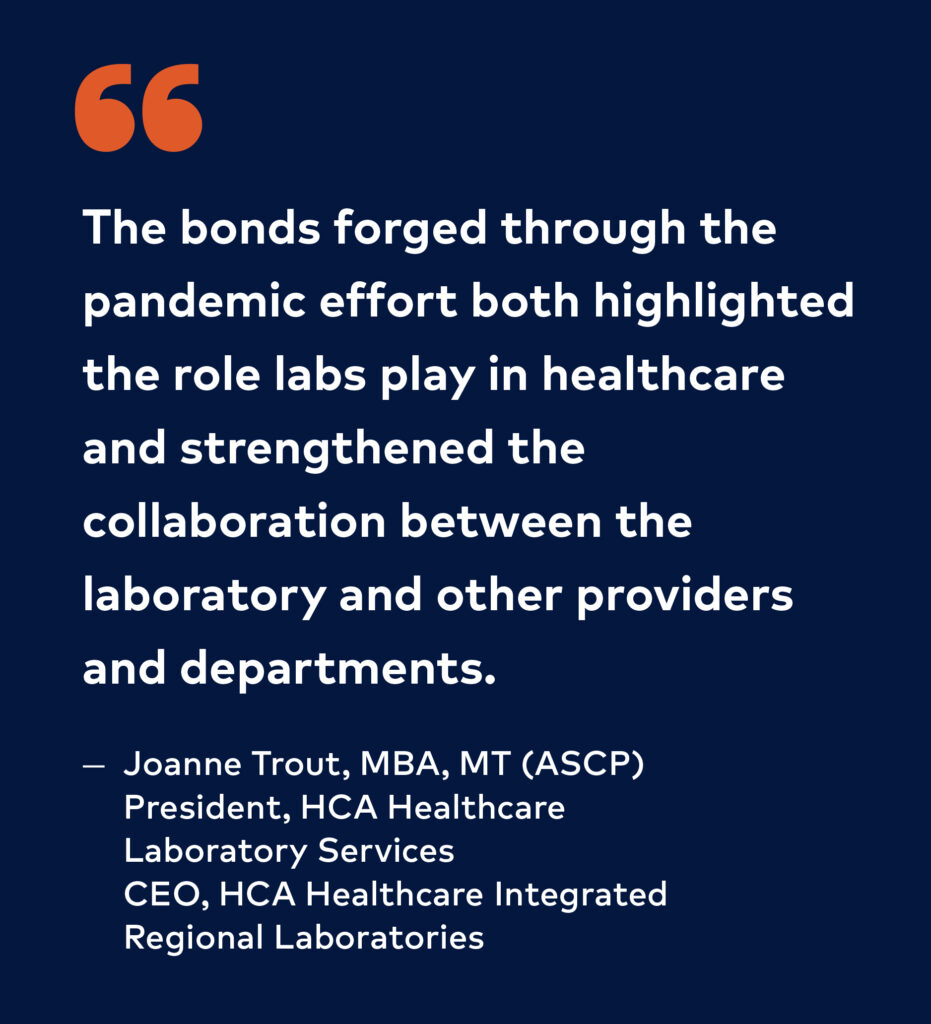 The pandemic forced HCA Healthcare labs to innovate quickly, as COVID-19 made their services even more crucial and more challenging.
"Our biggest challenge was understanding what analytical platforms for COVID-19 testing were available to each facility for testing symptomatic and asymptomatic patients," says Joanne. "Once an accurate inventory was established, our efforts turned to using census projections to work with vendors to secure test kits for existing platforms as well as securing additional platforms that were being authorized for emergency use by the FDA."
Another key role that labs played during the pandemic, says Heather, was "helping to understand the clinical and analytic sensitivity of each test."
For example, when a new COVID-19 test came to market, the lab team was the first to evaluate not only its operational efficiency, but also the analytic properties, Heather explains.
"Choosing the right test for the right clinical scenario involves understanding the studies the manufacturer has performed and comparing prevalence of disease while balancing supply."
As new tests such as those for detecting COVID-19 antibodies came to market, lab officials evaluated the professional literature to determine how that test would be employed; they also addressed physician concerns.
"The pandemic required that we quickly establish relationships and communication with leaders across the enterprise to assess needs, evaluate available options, investigate emerging options and negotiate how best to use limited resources," says Joanne. It was — and is — quite literally a group effort. Beyond the lab, supply chain, nursing, medical, data and administrative personnel all played key roles.
The critical lesson learned: "We are more successful collectively than as individuals, and flexibility is key," says Joanne. "The bonds forged through the pandemic effort both highlighted the role labs play in healthcare and strengthened the collaboration between the laboratory and other providers and departments."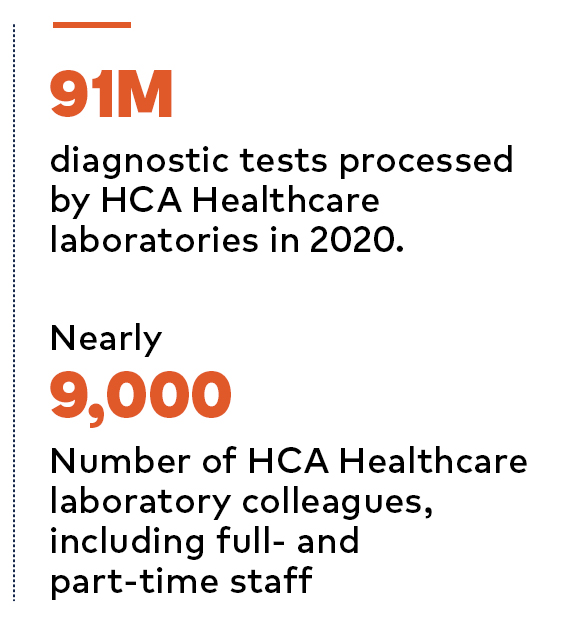 The pandemic clearly underscored the role of laboratories in providing the testing required to help contain COVID-19.
"I personally realized how many people now know what the laboratory does and how it participates in healthcare," says Heather. "Patients, public news outlets, government and administrators all supported the lab more than I've ever seen."
Fortunately, HCA Healthcare has a long history of organizing support functions as service lines to leverage best practices across the enterprise, says Joanne. "Since the pandemic, HCA Healthcare has established a formal Laboratory Services structure, enabling us to more formally sustain communication and collaboration and to build the infrastructure needed."
Additionally, our labs are partnering with nursing as part of the Care Model initiative to develop more standardized methods of blood collection. "It's such a critical aspect of high-quality laboratory services," says Joanne. "A more consistent approach will ensure that we're resourced appropriately to support lab service levels and prepared to collect the high-quality specimens on which lab results depend."