How we are supporting our colleagues' career growth and professional development
At HCA Healthcare, people are our greatest asset. By investing in our current and future leaders — developing leaders who embrace our culture, grow our organization and lead the industry — we can fulfill our purpose of giving people a healthier tomorrow. 
Nursing advocacy and development 
Nursing is our differentiator. Investments in education, technology, capital improvements, infrastructure and well-being resources let our nurses spend more time at the bedside and see a clearer path for career advancement. 
Our Centers for Clinical Advancement (CCA) bridge the gap between the classroom and bedside care, providing highly interactive, practice-based instruction. 
In 2020, HCA Healthcare acquired majority ownership of Galen College of Nursing, one of the largest educators of nurses in the U.S. We work together to bring nursing programs to colleagues and the larger community, which will help in addressing the nation's nursing workforce needs. 
The HCA Inspire app offers nurses a secure method to chart a path for professional growth, connect with a mentor who can inspire and challenge them, and recognize the excellence of their nursing colleagues. 
The Excellence in Nursing Award, including a cash gift and charity donation, is presented at the facility, division and organization levels. It recognizes outstanding nurses for their professional mentoring and compassionate care.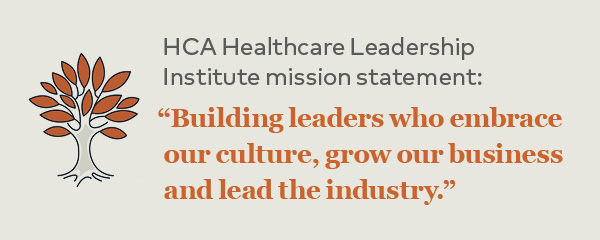 HCA Healthcare Leadership Institute
This extensive portfolio of development programs for leaders builds strategic and operational capabilities, while allowing leaders to network with colleagues.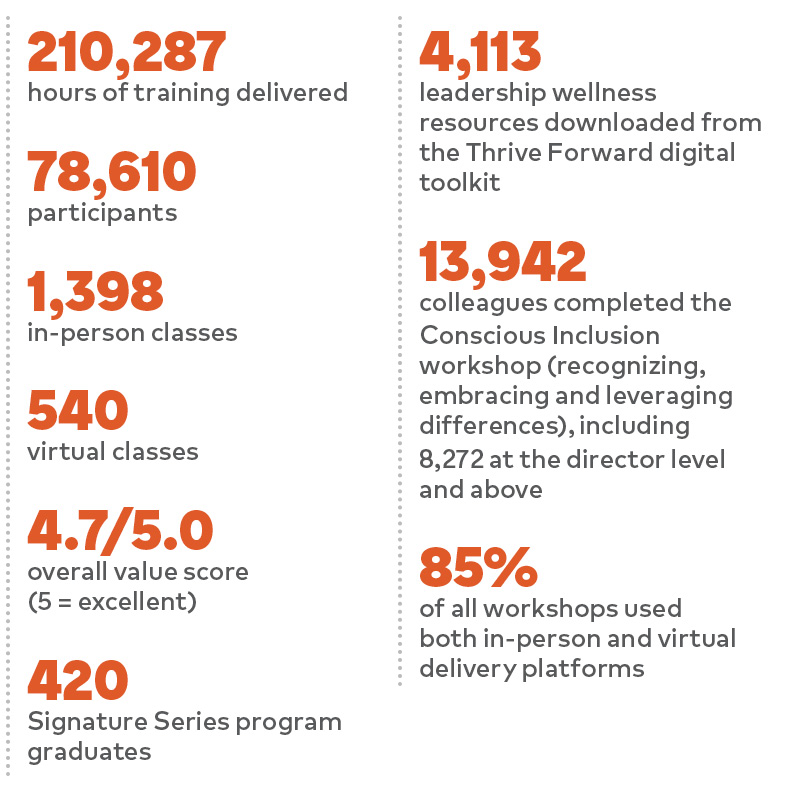 Harvard Spark

 
The Leadership Institute also offers Harvard Business Publishing and Leadership Institute content, videos, tools and articles through Harvard Spark. The mobile-enabled learning platform provides curated, on-demand content to your laptop, desktop or mobile device. 
9,540
unique participants accessed the content 
200,000+
Harvard Spark resources in 2021
---
Harvard ManageMentor

 
Harvard ManageMentor provides access to 42 modules of flexible, self-directed learning options including high-quality content, videos, tools, discussion guides and on-the-job activities for leaders at all levels. 
23,000+
participants 
---
Signature Series Programs

 
The Executive Development Program, the Director Development Program for ER/OR/Critical Care and the Leadership Excellence Program are service-learning programs that candidates can either apply to or be nominated for.
---
New Leader Orientation (NLO)

 
This equips new leaders with resources and high-impact leadership practices to drive performance. Orientations are facilitated by leadership and organizational development colleagues, division leaders and subject matter experts. 
1,571
participants in 2021 
---
Training Days

 
The HCA Healthcare Leadership Institute, in partnership with the Information Technology Group, hosts an annual Training Days event. It is held over three days and is open to all colleagues. Attendees can choose from 75 professional and technical development workshops. 
---
The Nursing Leadership Certificate (NLC)

 
This consists of 32.5 hours of development for front-line nursing leaders. 
Nearly 5,000
graduates since 2016 
197

 
graduates in 2021 
74%

 
retention rate among 2019 graduates 
---
Leadership Essentials (LE)

 
This nine-month virtual program for managers and supervisors includes Harvard ManageMentor modules, case studies developed by HCA Healthcare leaders and the opportunity to network virtually with peers across the organization. 
254

 
graduates in 2021 
731
current participants