Our clinical professionals bring an unmatched depth of knowledge to improve capabilities, best practices and patient outcomes.
HCA Healthcare maintains an unparalleled commitment to the development of our leaders — current and future. Here's a look at the various ways HCA Healthcare prepares its physicians, nurses and other health professionals who contribute to patient care.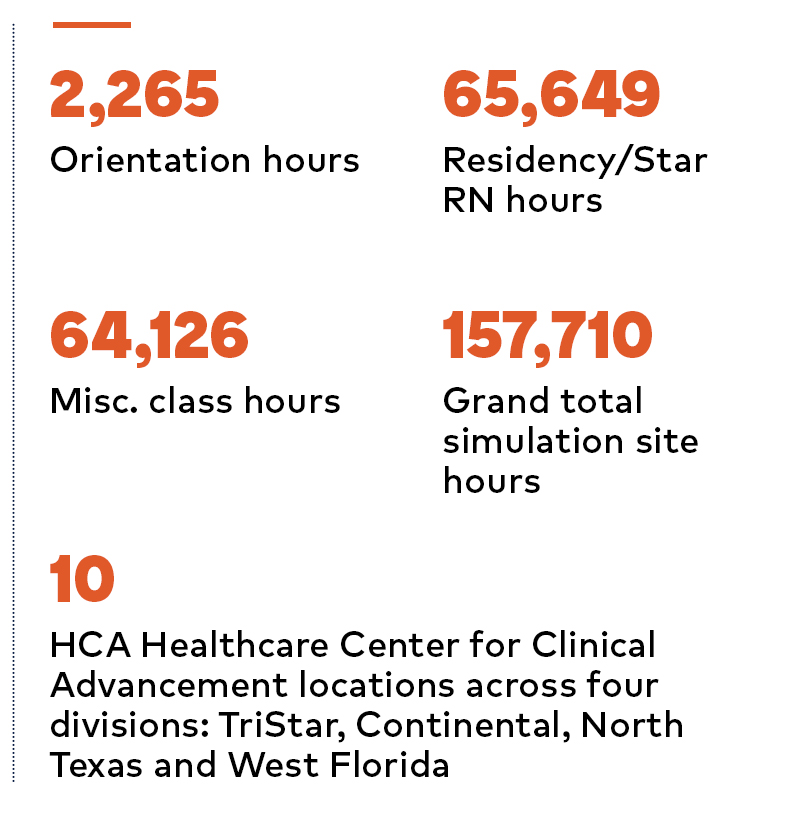 HCA Healthcare Center for Clinical Advancement
About the program 
Ten locations across the enterprise offer nurse residency and colleague continuing education programs, colleague orientation, and additional HCA Healthcare events and meetings. 
Background 
In 2017, Justin Laferty, corporate director, Simulation and Technology for the HCA Healthcare Center for Clinical Advancement, led the construction of the first large-scale simulation and education center in Nashville, Tennessee. A few years later, that model was reviewed and improved upon for the construction of future centers. 
Nurse residencies 
Newly licensed nurses participate in a program that includes classroom didactic work, e-learning activities, hands-on skills training and immersive training simulations with multiple teams. Nurse residents divide their time between virtual and in-person classrooms, hospitals and clinical environments 
What's next: 
Accreditation through the Society for Simulation in Healthcare (SSH) 
Opening by year's end: a simulation space to co-locate with Galen College of Nursing 
Additional HCA Healthcare Center for Clinical Advancement locations in the Mid-America and Far West divisions and elsewhere 
Physicians Leadership Academy
About the program 
The Physicians Leadership Academy (PLA) is a yearlong training program for facility chief medical officers and assistant chief medical officers who are transitioning into executive roles. Participants gain essential leadership skills and improve their ability to drive the clinical agenda and boost performance excellence. Between 40 and 70 participants at a time, from across the enterprise, can take part in the training, allowing opportunities for networking with other HCA Healthcare executives. 
'We want them to be successful in their role and set them up for success. We see leadership development as an investment into them being strong leaders and being able to deal with the challenges that we know come with that role.

— Meredith Forehand, PLA program director.
Participants also complete a capstone project that's presented at the end of the program. Of these capstone projects, a handful are selected for presentation to executive leadership.
One example of how these projects make an indelible difference is that of Sean Benoit, M.D. The breakthrough initiative from Dr. Benoit involves enhanced surgical recovery to minimize opioid use in patients after cardiovascular surgery.
The multistep process involves using nonnarcotic medications, removing patients from ventilators sooner, mobilizing them and stabilizing their blood sugar levels. This required a surgeon's buy-in through supporting data and collaboration between care teams.
Those things really show that it is the right thing to do. I'm so very proud of that. It was a great way for me to see that HCA Healthcare is interested in helping us choose a capstone that would help the organization improve.

— Sean Benoit, M.D. PLA alumnus, 2019; Chief Medical Officer North Florida Regional Medical Center Gainesville, Fla.
PLA program director, Meredith Forehand, says participants learn that they're part of the larger HCA Healthcare story.
'We're such a large company. We're geographically diverse. Our patient populations are diverse. It often feels like they are in their hospital working, fighting the good fight.
Then when they come to a program where there are participants from across the company and across the country, they're like, 'Wow, I didn't know how big HCA Healthcare was. I didn't know we had all these resources available. I didn't know that there were these different opportunities or people that I could lean on or ask questions to.'"
Jake O'Shea, MD, FACEP, Division Chief Medical Officer, HCA Healthcare Capital Division and PLA alumni, 2018, says new connections across the enterprise were extremely beneficial:
"There's almost always somebody who has executed a new clinical program that other hospitals are looking to bring on. You can call another hospital and ask about their experience and learnings so that you're not starting it all from scratch. For example, one of our hospitals was looking to add burn and wound care services for patients. So, I called a CMO at another facility that had gone forward with it. Because he and I had met through the PLA, it made it much easier to just pick up the phone, reach out and have a conversation about it."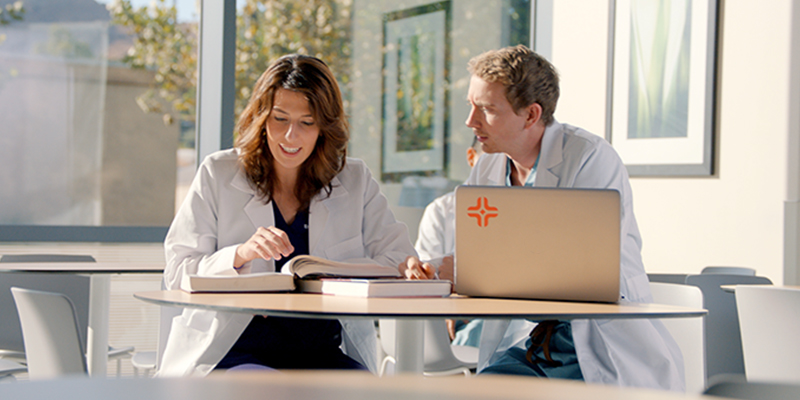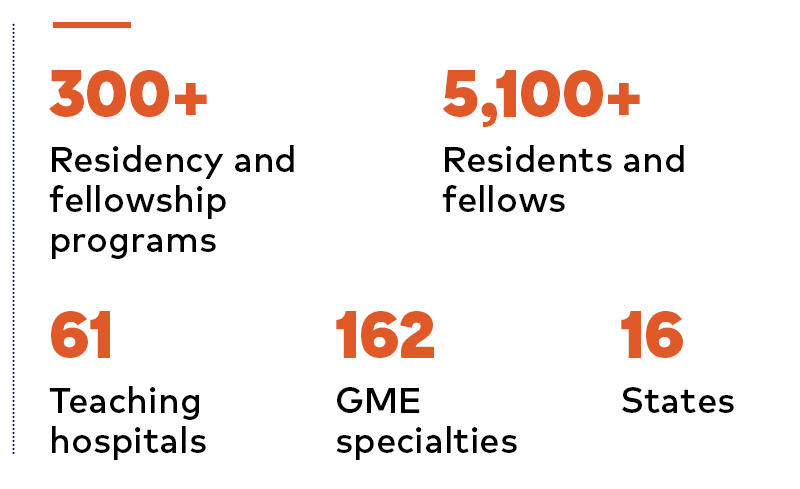 Graduate Medical Education (GME)
What is GME? 
GME is a period of clinical training in which physicians are licensed but practice under supervision while completing their specialty training. This leads to earning board eligibility in their area of specialty. Physicians in GME are sponsored by either medical schools or teaching hospitals. 
HCA Healthcare is one of the largest sponsors of GME programs and is a major presence in Florida. In fact, one-third of HCA Healthcare's teaching hospitals are there, through a partnership with the University of Central Florida.
Bruce Deighton, Vice President for Graduate Medical Education for HCA Healthcare, says most of the programs have been implemented since 2014 and new offerings have been added rapidly. He says the primary mission of doing so is to meet the needs for access to healthcare. The anticipation of future needs prompts such growth.
"There's a national shortage of physicians. All the predictions are for that national shortage to become significantly worse over the next 10-year period," he says. "For HCA, this is a matter of both of meeting our own needs for physicians, but also trying to meet the needs of the communities where we operate to be sure that patients have access locally to healthcare."
• More doctors in hospitals: "Teaching hospitals tend to have an elevating influence on the quality of healthcare," says Bruce Deighton, vice president, Graduate Medical Education, HCA Healthcare. In most cases, doctors are available in teaching hospitals around the clock, every day, all year, he says. A nonteaching hospital typically does not have that kind of physician staff. 
• A higher bar: Because of accreditation requirements, faculty, residents and fellows in GME programs conduct clinical academic research and publish findings in medical journals. 
• Teaching opportunities: GME is especially appealing to physicians who enjoy teaching and training colleagues — who may practice with them at some point — but prefer not to be in a university setting. 
What's Next — Continued Growth:
Increase number of residents and fellows to 7,500 over the next 5 years
Continue to expand partnerships with medical schools