Career development and advancement opportunities at HCA Healthcare continue to grow.
The founding principle of HCA Healthcare — unparalleled patient care — begins and ends with our colleagues and their ability to deliver the highest quality of care. So it only makes sense that the more opportunities colleagues have to improve their skill sets, the better for their patients and the organization as a whole.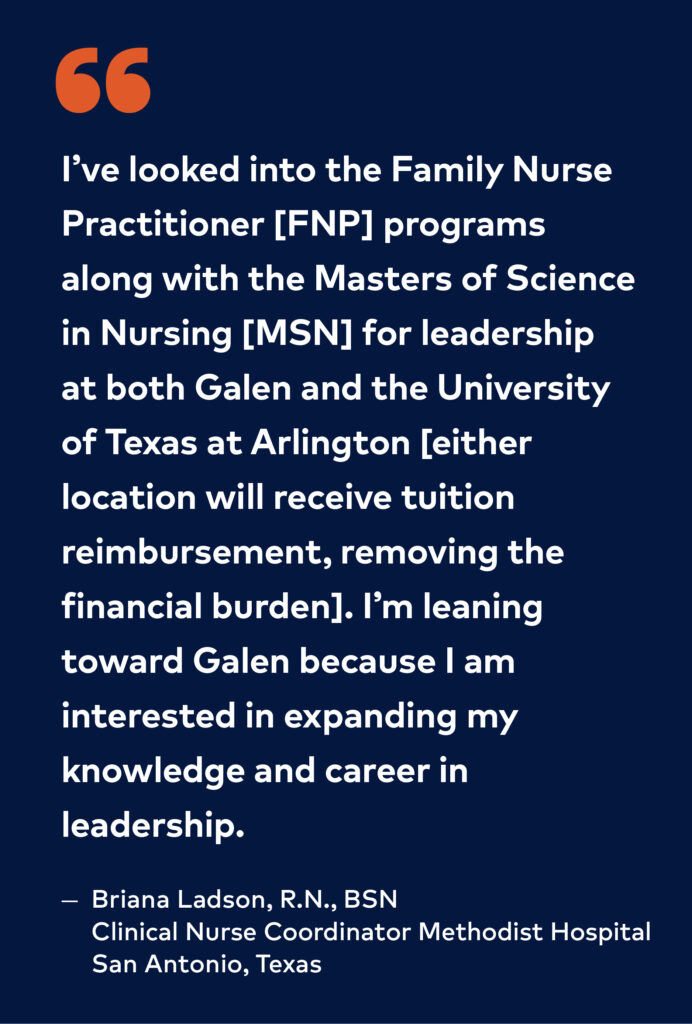 "From my perspective, the opportunities with HCA Healthcare are endless," says Jami Rimer, R.T. (R)(CT) MBA, regional director of operations-Far West Division and former Las Vegas, Nev., market manager with CareNow Urgent Care, which HCA Healthcare acquired in 2014. "There are opportunities for tuition assistance and student loan repayment, and internal programs for pursuits in nursing, leadership and allied health professions."
"In the urgent care space, providing career advancement opportunities is crucial," says Jami. "These programs allow us, as an employer, to leverage new and existing talent to be placed in hard-to-fill positions due to their specificity. However, the overarching goal is to retain colleagues who have demonstrated our mission, vision and values."
Natural Partners: CareNow and The College of Health Care Professions
HCA Healthcare colleagues have access to many ways to grow their careers and also their skills as healthcare practitioners. A new partnership between CareNow and the College of Health Care Professions (CHCP) in Texas provides opportunities for educational and career advancement for limited medical radiologic technologists (LMRTs), tuition free. The partnership was designed to address the shortage of LMRTs throughout the industry.
"Every year, each state has new requirements or guidelines for licensing this position, which creates a void for this particular role," says Jami. "As an urgent care provider, we realized we had to act quickly. The decision was made to explore an internal program to meet the demands of each state and to provide a promotable pathway for our colleagues."
That search led CareNow officials to approach CHCP — educators in the allied health field for more than 30 years — with the concept of establishing a new partnership. "Synergy between CareNow and CHCP was well aligned," says Jami, as both organizations were looking for a solution to the dwindling supply of LMRTs.
"The partnership was developed due to a larger trend across the nation, where brick-and-mortar schools shifted their curriculums from offering limited-scope LMRT programs to primarily offering full-scope radiologic technologist programs," says Jami. "Prior to approaching CHCP, they too were having internal conversations surrounding the growing need for medical assistants who are also certified to take radiographic images."
The CareNow/CHCP partnership was established in January 2021 and launched its first virtual LMRT classes with CareNow colleagues in Houston, Texas, and Las Vegas. The "classroom" portion of the CHCP-developed program is completely virtual, making it accessible to students from a variety of locations. The LMRT program takes six months to complete, and it meets all the criteria required for students to apply for state licenses after they pass a board certification test administered by the American Registry of Radiologic Technologists. Students enrolled in the program need to be endorsed by their manager and human resources, and they must pass an aptitude test. CareNow colleagues must also earn a certificate of completion as a medical assistant and sign a two-year employment obligation. Upon successful completion of the test, CareNow will promote the colleague to a more technical position that provides higher earning potential.
"The importance of offering programs to our colleagues is critical given the climate caused by the pandemic. Many colleagues are searching for stability and alternate professional avenues in an uncertain time," says Jami. "This program provides focus, promotability, flexibility and a different approach to conventional learning methods."
HCA Healthcare's acquisition of Galen College of Nursing has given our nurses incredible access to the largest academic practice partnership in the nation, according to Galen CEO Mark Vogt.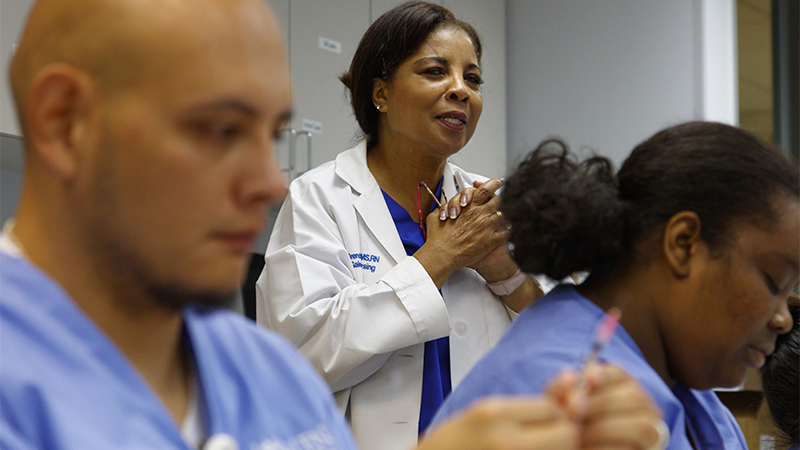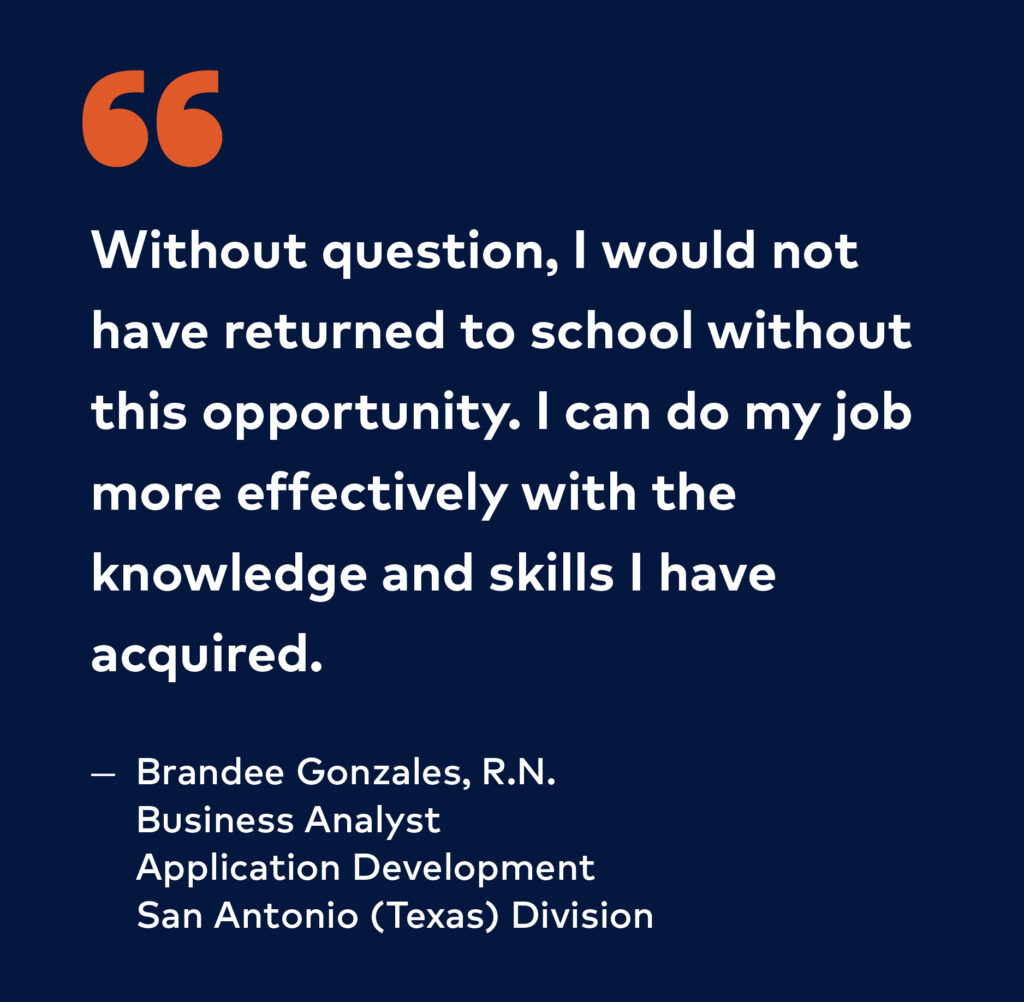 "The ability to have a direct relationship with a practice partner enhances the integration of evidence-based practice in our curriculum," says Mark. "[This] translates into excellence in patient care, especially as the role of nurses in healthcare continues to evolve and elevate. Another benefit is students having the opportunity to learn in the clinical settings where they will eventually practice."
To meet the needs of nurses currently with HCA Healthcare, Galen now offers several online programs that are specifically designed to expand proficiency while lowering the barriers to entry. Galen's R.N. to BSN program — which can be completed in as little as 12 months — features an option in which Galen bills HCA Healthcare directly, allowing eligible colleagues to incur no out-of-pocket tuition expenses.
Additional online programs offered by Galen include two master's degrees. The first, Nursing and Healthcare Leadership, is designed to promote the leaders needed to inspire the nation's more than 3 million registered nurses. The other, Nurse Educator, aims to cultivate teachers to develop the more than 1 million new R.N.s that government officials say are needed to address the current critical healthcare needs. For both programs, eligible nurses can receive a cost savings of 33% — $350 instead of $525 per credit hour — for a total tuition cost of $12,600.
It didn't take long for the collaboration between Galen and HCA Healthcare to be realized, says Mark. "We can now align our expansion with their needs to support new nurse development as well as leverage the organization's support and resources to accelerate the process where it is needed most."
I wanted to be a hospital CEO by 35, so I beat my goal by three years.

— Ashley Vertuno CEO, JFK Medical Center North Campus West Palm Beach, Fla.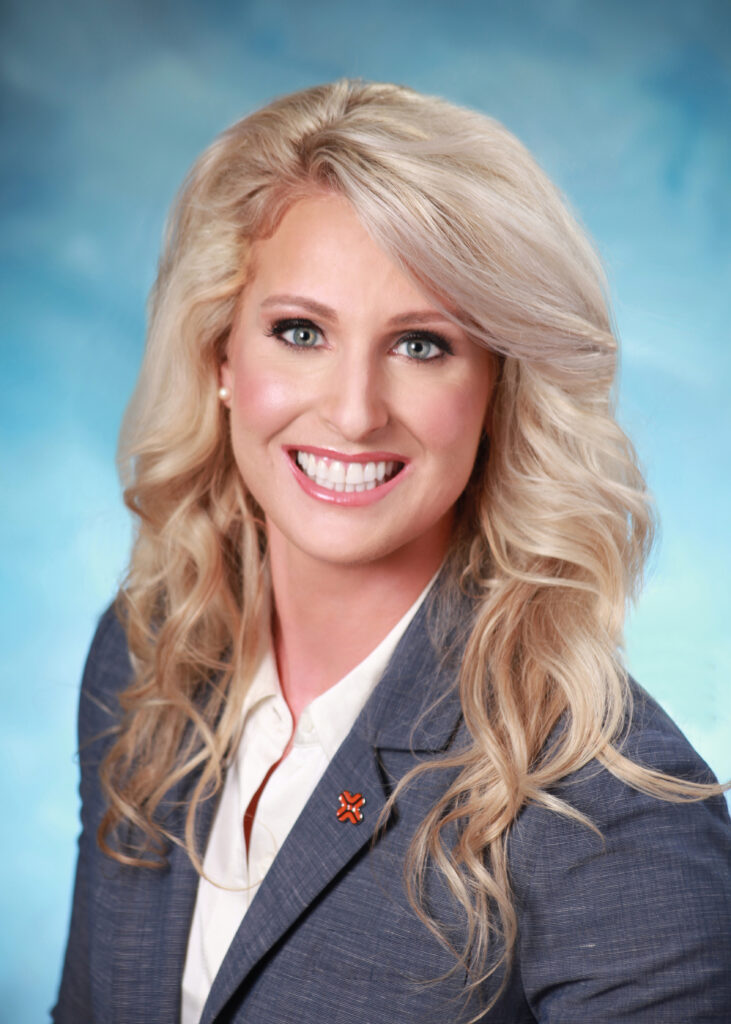 In November 2020, 32-year-old Ashley Vertuno, FACHE, became HCA Healthcare's youngest CEO. She took the reins of JFK Medical Center North Campus in West Palm Beach, Fla., a 245-bed acute care facility with an adjoining 88-bed behavioral health unit and some 650 colleagues total. That appointment exceeded even her own expectations.
"I wanted to be a hospital CEO by 35, so I beat my goal by three years," says Ashley, now 33. "I can't believe I've been here almost a year."
Growing up in Richmond, Va., Ashley was familiar with HCA Healthcare. After earning her undergraduate degree in business administration and management from Virginia Commonwealth University and her master's in health administration from the University of South Carolina, she took a position with HCA Healthcare's Physician Services Group as a practice manager overseeing two physicians' offices with Centerpoint Medical Center near Kansas City, Mo.
Though she hadn't planned to leave HCA Healthcare, Ashley developed a great working relationship with the CEO at Centerpoint and followed her mentor to California and a position with Tenet Healthcare. Four years later, Ashley was again on the move, returning to HCA Healthcare as chief operations officer at Westside Regional Medical Center in Plantation, Fla.
Ashley says there were several factors that drew her back, including a strong history of mentoring.
"The other key is the patient promise," she says. "Our mission, above all else, is that we're committed to the care and improvement of human life. The patient promise really resonates for me."
Those attributes are reflected in the leaders who have supported Ashley during her career, colleagues like Barbara Simmons, R.N., CEO at Westside Regional Medical Center, and Heather J. Rohan, FACHE, a former HCA Healthcare CEO in Florida and Tennessee and president of the TriStar Division.
"The thing that I've learned from [Heather] is you have to raise your hand," says Ashley. "If there's something you want, you have to let people know. My boss, Barb, knew when I came in as the COO that I wanted to be a CEO.
"It comes down to having a conversation with your supervisor and just letting them know you're interested in exploring [new opportunities]. It's about relationships and connecting to other people. That's very important."
Today, Ashley finds herself in the role of mentor, encouraging others to pursue their goals — not only through her position at HCA Healthcare but also via her work with professional associations, such as the American College of Healthcare Executives. She is driven, in part, because she still has more to achieve.
"I'm still growing, and I'm still learning. Every day I learn something new. I cannot tell you how supportive my peers have been. That speaks volumes about the culture that we have at HCA Healthcare."