As with many colleagues, Angel Romero Jr.'s workload increased when the pandemic started. Patient treatment, combined with the loss of his father-in-law to COVID-19, led him to "compassion fatigue." He found help through HCA Healthcare's behavioral health services. This past March, Angel lost his father, Angel Romero Sr., in a single- vehicle accident. Using the same tools he acquired through his previous losses, Angel handled it by focusing on life's gifts 
Through our smiles, laughter and even our faults we make an impact on others. Do not waste a moment to share yourself. We cannot be successful in isolation, but through intentional acts of goodness, kindness, charity, patience and self-control.

— Angel Romero Jr. MSCIS, BSN, R.N. Vice President of Quality HCA Houston Healthcare Mainland Texas City, Texas
Angel shares more about how the available tools help him both manage his stress and provide better patient care.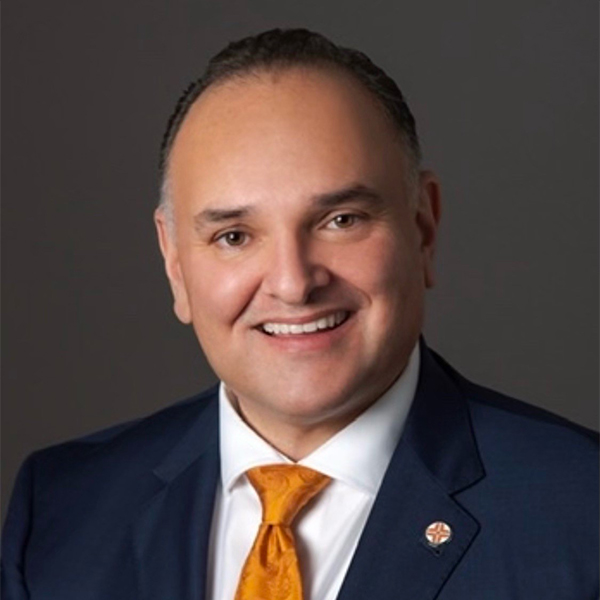 Q: Your facility was one of the first HCA Healthcare hospitals significantly impacted by COVID-19. What was that like?
A: The weekend before March 5, 2020, I heard a podcast that included what we could anticipate with the impending outbreak. It was both unnerving and very helpful to understanding the alternative care sites, vital PPE [personal protective equipment] and nursing care we would soon need. We identified and informed our nursing teams of what to expect and immediately [started] planning to become one of three Hero Hospitals in Houston to receive COVID-19 patients.
Q: The pandemic and its impact, plus losing a family member to COVID-19, must have taken a toll on your emotional well-being.
A: As a healthcare provider, I give support unceasingly. But I didn't have an outlet. Daily prayer and asking for understanding helped me ask for help. I also learned of other providers taking their lives during the pandemic. I didn't want to become a statistic by isolating myself. HCA Healthcare provided everything for me. I talked to a counselor who helped me align my thoughts about my family and those I cared for. 
Q: Did you use HCA Houston Healthcare's free behavioral health services and its employee assistance program?
A: I used the Nurse Care hotline and still do to this day. My church and weekly men's group for prayer get me through.
Q: How have you been cared for by those resources?
A: It made the difference in being able to let go of what I experience on a daily basis as an associate chief nursing officer and now VPQ. There are many difficult things we witness in healthcare — even the difficulty our own colleagues are experiencing and share with you as a leader. It has to be shared, and I'd rather share them with our counselor.
Q: What are some other tools or techniques you've learned?
A: In healthcare, to provide empathy at 100%, you must have an outlet to help you refill your cup. You cannot give what you don't have. You have to prepare and build up your resilience. Good sleep, good food, and good mental and physical health are most important.
Q: What advice do you have for colleagues struggling with compassion fatigue?
A: Take a deep breath and just call the Nurse Care line at 800-480-1234. HCA Healthcare is here for you. Tomorrow is a new day. We have hope with each sunrise that we have each day to make a difference. 
Need help? Call the HCA Nurse Care hotline: 800-480-1234.