One doctor's Christmastime visits to NICUs across Kansas City reflect his own philosophy of Caring Like Family.
Sometimes people call him "Papa."
Or "Doc."
He's even been called "Dr. Harley," because he's often seen riding his Harley-Davidson motorcycle.
But more people around the Kansas City area know him as "Santa."
Even after the holidays, Dr. Robert G. Holcomb feels the spirit of Christmas throughout the year.
For the past 11 years, he has spent the month of December as Santa, visiting families and babies in neonatal intensive care units (NICUs) throughout Kansas City. He serves as a neonatologist at four HCA Healthcare Midwest Neonatal Intensive Care Units: Overland Park Regional Medical Center, Centerpoint Medical Center, Research Medical Center and Menorah Medical Center.
Dr. Holcomb is also the Medical Director for the HCA Healthcare Midwest Neonatal Transport Team, caring for newborns and high-risk mothers.
The goodwill generated from those visits extends long past the holidays, he says. Families and colleagues look forward to the visits so much that their joy and gratitude motivate him all year long. Christine Hamele, public information officer and associate vice president, Public Relations & Community Engagement, for HCA Healthcare's Midwest Division has witnessed "Santa's" magic through the years. It's the epitome of how we "Care Like Family," she says.
Christine interviews families after Dr. Holcomb's visits. They often tell her that their tears of joy are mixed with feelings of sadness because they will miss their care team when they leave the NICU.
"We are their family. Dr. Holcomb is Papa," Christine says.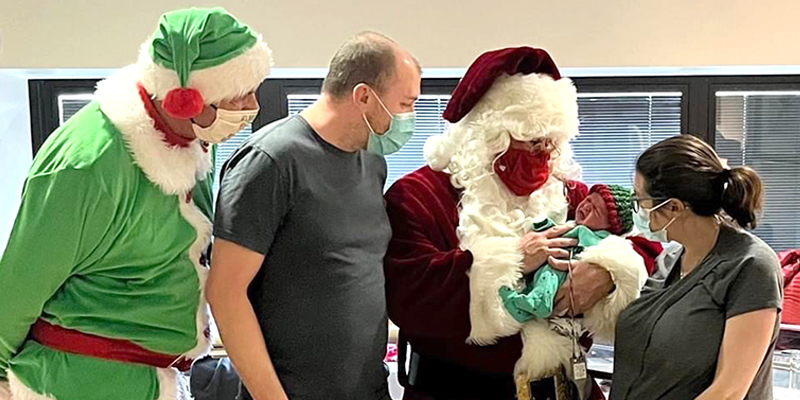 Dr. Holcomb's work as a neonatologist is personal.
"To me, there's a lot more than just the actual science of medicine when it comes to taking care of families in such stressful situations," he says. "My wife and I had a premature set of twins. This was way back in 1992, and we lost them. But I have a feeling that it was all a part of who I was meant to be, and the experience is who I am today."
In the wake of his own loss, this 30-year medical professional has served families and newborns in the NICU with more compassion and empathy. He says families need emotional support as much as medical assistance.
"Nothing will break open a marriage more than having a sick baby in the neonatal intensive care unit. I've seen it over the years. So these families need an awful lot of help and support. Some get it on the outside from friends and family, but some don't have that," Dr. Holcomb says.
When he first donned a Santa suit 11 years ago and realized how much the families cherished the photos of their babies' first visit with Santa, he knew the tradition must continue. Local community members have been inspired to get involved. A local photographer now donates their services, and past NICU parents formed an organization called The Circle of Hope, which donates frames for the Santa pictures.
"For me, as far as Santa Claus is concerned, that's just a part of what I'm giving to these families," he says. "And to be honest, it's what they're giving to me."
Families can't wait to tell him all about their babies. Some babies are even dressed up for the occasion with special Christmas outfits. Dr. Holcomb recalls one mother whose baby he had taken a photo with a few years ago. When she returned to the NICU with another premature baby at Christmastime, she brought that photo of her first child with Santa and they incorporated it into the photo shoot with her second child.
"For me, as far as Santa Claus is concerned, that's just a part of what I'm giving to these families," he says. "And to be honest, it's what they're giving to me."

— Dr. Robert G. Holcomb, neonatologist and Medical Director for the HCA Healthcare Midwest Neonatal Transport Team.
The Santa visits are such an impactful experience that Dr. Holcomb's daughter and his best friend also accompany him as Santa's elves. It's become their Christmas tradition — one they treasure above all else, Dr. Holcomb says. The joy also spreads to the hospital staff. Nurses at Research Medical Center make blankets that say "Santa's Little Helper" for each baby there, and nurses at all of the facilities can't wait to take a selfie with Santa.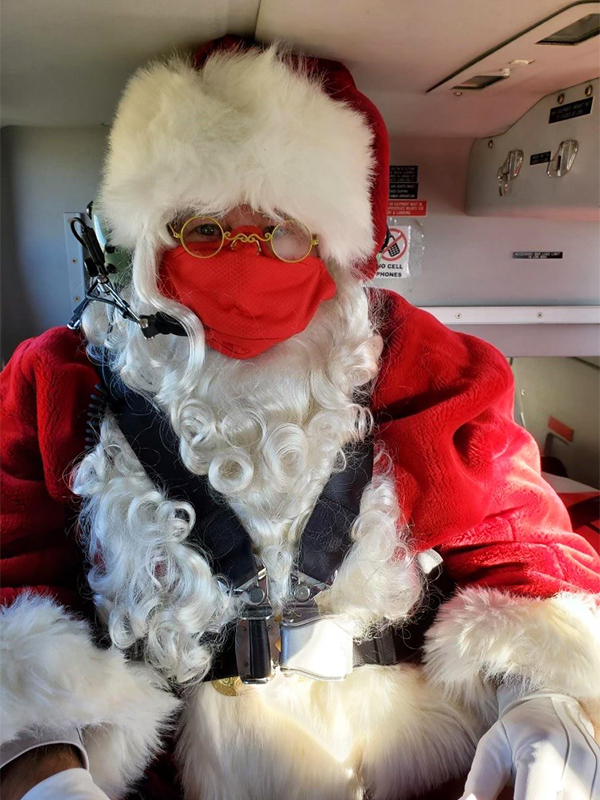 "This is what we look forward to. It's not about gifts or presents or anything. It's about giving people something that can be so precious and so meaningful that it can last a lifetime," he says. "We finish with such a wonderful joy in our hearts, knowing the smile that we put on these families' faces and knowing what it means to them."
Dr. Holcomb says the families he serves range from rural farmers to famous athletes to others experiencing homelessness. Regardless of their status, he strives to treat each one as a member of his own family.
"You never know what life's going to bring you, and it could thrust even the strongest of us into a very stressful situation that could tear us apart and break us," Dr. Holcomb says. "My job is not a job. My job is a passion … and I'm so proud of what we're able to do for these families. I'm so proud of what we're able to do for these babies."