There aren't many career stops this multitalented nursing pro hasn't made.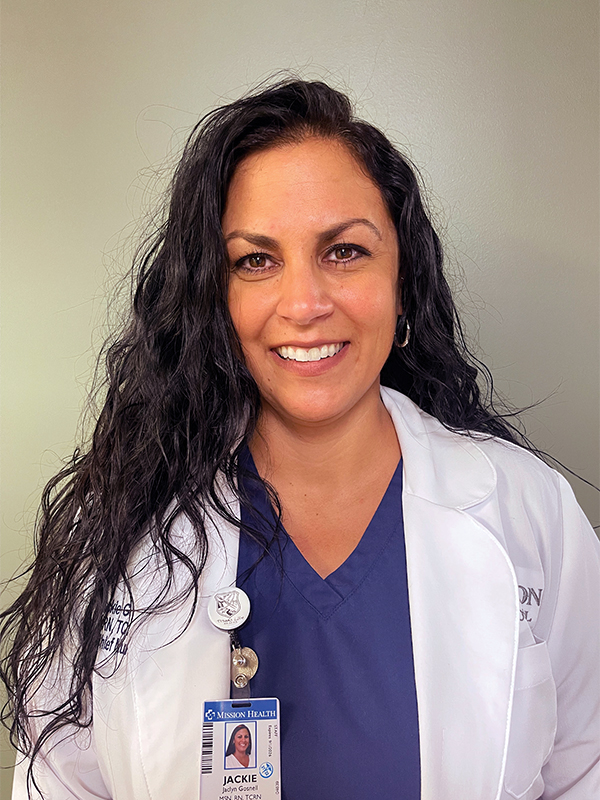 Jaclyn "Jackie" Gosnell is a model of both consistency and constant movement. She started her medical career at Mission Health in Asheville, N.C., as a teenage licensed practical nurse. Nearly two decades later, she's still at Mission Health but now holds a master's degree in nursing leadership and is a nationally certified emergency nurse and registered trauma nurse. She was recently promoted from trauma program director to assistant chief nursing officer, overseeing roughly 450 colleagues.
It's been a dizzying rise. Helping keep Jackie grounded along the way is an excerpt from an inspirational speech by Theodore Roosevelt, "The Man in the Arena" (first delivered in 1910 ) that adorns a wall in her office: "It is not the critic who counts; not the man who points out how the strong man stumbles, or where the doer of deeds could have done them better. The credit belongs to the man who is actually in the arena, whose face is marred by dust and sweat and blood; who strives valiantly."
Says Jackie: "That is truly what I have tried to strive for, being 'The Man in the Arena.'"
Q: What is the scope of your work currently?
A: I serve the critical care service lines and the step-down units of Mission Hospital.
Q: What does that entail?
A: Basically, supporting a variety of levels, ensuring that leaders are developing, from front-line staff through to the director positions. And supporting the directors so they can support the managers and the supervisors of each unit. I'm a key stakeholder or a champion of certain projects throughout the organization as well as any new initiatives that may be coming about — anything to improve the quality of care for our patients. I also help get the resources that staff and patients require for an optimal experience and best patient outcomes.
Q: You have a number of irons in the fire. Do you prefer that pace?
A: I do. Predominantly, my nursing career has been in emergency medicine, and then the past four years I've spent in the trauma program. Both emergency and trauma require a lot of quick thinking.
Q: Were you always drawn to emergency medicine?
A: When I was first hired, I'd been a CNA in a nursing home for a year prior to that, and I knew that long-term acute care was not what I was looking for. I started on the orthopedic unit because that's where I had done my clinicals. Being 19 years old, I didn't really understand all of my options. But once I started in nursing school and got to see different areas of the hospital, I was quickly drawn to emergency medicine. I loved the rapid pace and the critical thinking it required. It was almost like constantly putting together a puzzle without seeing a picture of what it's supposed to look like. And you had to shift pieces along the way. I just love that aspect of it.
Q: How has your work changed as your field has evolved over 20 years?
A: Healthcare in general has changed, so I've had to adapt with that as I've grown as a nurse. My focus and my style have shifted as I've changed positions. I started as an LPN, and then became a registered nurse, then a supervisor, then a manager, then a quality improvement advisor, then a director, and now I'm in this role. With each of those levels I had to adapt and still be able to drive change.
Q: Can you give us an example?
A: As you step up to another level, you may not be as involved in direct bedside care. But I still have to be able to produce outcomes and optimal patient results. Really, it's engaging your front-line staff, your front-line leaders, and making sure they see the big picture and understand what the expectations are. It's setting the bar for what those expectations are, and then making sure that you're really empowering your staff. I feel like I've grown to be a more relationship-centered leader. I see being a leader as being a servant, not a dictator. When you look at leadership through those lenses, it really changes the way you lead.
Q: Is there anything you miss about the frontline aspect of your career?
A: I still get my fix for bedside care. I carry a trauma pager, and when I hear activations, if I have time, I will gown up. It earns you some street cred with your nurses if they see that you can be a helping hand as well. Even if that just means helping with a bed bath or transporting a patient.
Q: To what do you attribute your success?
A: Where I am is partially due to working my way up. Each level of leadership has brought a tremendous amount of value to my current situation because I can truly empathize with staff in each of those layers. When they present problems, I know where they're coming from. It has really helped me connect with people. I can speak to them from the place they're coming from and also see it from where I am.
Once I started in nursing school and got to see different areas of the hospital, I was quickly drawn to emergency medicine. I loved the rapid pace and the critical thinking it required. It was almost like constantly putting together a puzzle without seeing a picture of what it's supposed to look like. And you had to shift pieces along the way.

— Jackie Gosnell, MSN, R.N., TCRN, CEN