A pilot program offers best practices and resources to help improve care for young patients with sensory processing sensitivities.
Scattered across Kelsey Bryant's workspace are items you may find on the desk of a pre-school or elementary school teacher.
A light spinner. Buzzy bee. Vials of cupcake and bubble gum scents. A rainbow Pop It. Sometimes she finds a tube of glitter in her pocket.
Kelsey, however, isn't a teacher. She is a certified child life specialist at
HCA Healthcare's The Children's Hospital at Tristar Centennial Medical Center in Nashville, Tennessee — the hospital where she was born. It's also where pilot programs and best practices for delivering sensory-friendly care are transforming the way that young patients with such sensitivities are cared for.
In her role, Kelsey helps patients — especially young ones — their families and staff members adapt to how foreign a hospital environment can feel.
"Our job allows us to be in very unique situations, to be a resource for not just patients and families, but also for staff," says Kelsey. "Our job is to be out-of-the-box thinkers.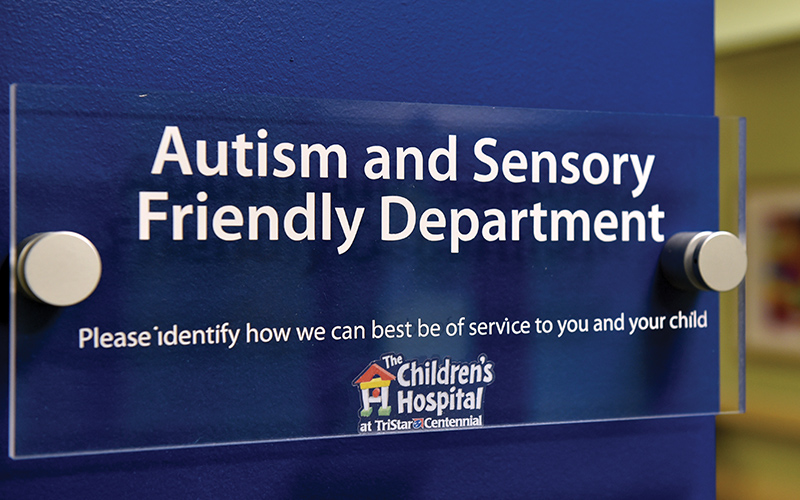 Replacing Fear with Familiarity
Hospitals can be stressful places for patients of any age, especially for young patients or those with sensory processing issues, such as an autistic child. For these patients, a hospital can be frightening, particularly in the emergency department/ER. Kelsey's goal, and that of all child life specialists, is to reduce those fearful aspects and make hospitals more familiar and welcoming.
When patients with autism or sensory processing disorders enter the hospital, the first step is to avoid overstimulation.
"It's this fine balance. Everything about the hospital is overstimulating — the sounds, the smell, the different food or the medicines — it can just be too much to process," Kelsey says.
Her job is to provide procedural prep and support to ensure that children understand what's happening.
"I tell my kids, this is your body, and you have every right to know what's happening to it," she says.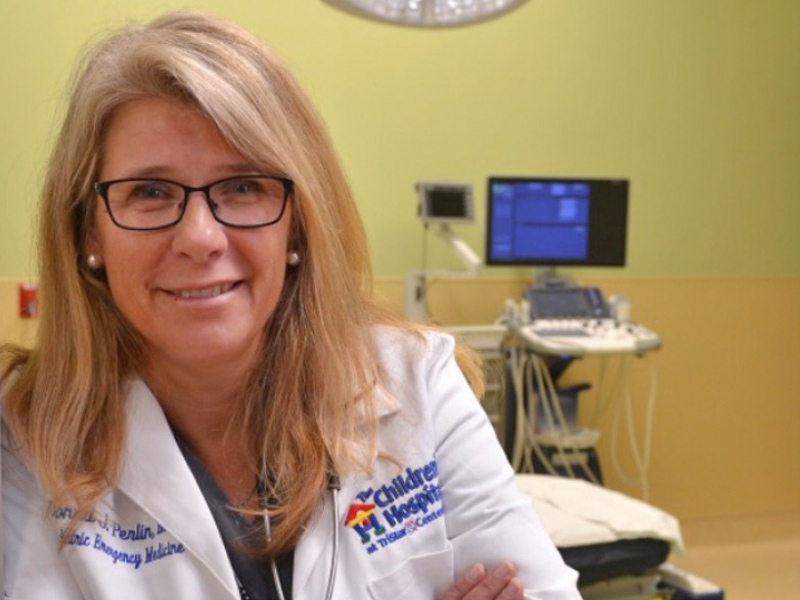 The program that Kelsey oversees mirrors the pioneering work of Dr. Donna Perlin. After 30 years with HCA Healthcare, Donna is now with Envision Healthcare. Dr. Perlin, a specialist in pediatric emergency medicine, was first drawn to the work because of her son, who is on the autism spectrum and is high functioning.
Discussions with another medical colleague who also had a child with autism convinced Donna that more could be done for patients with sensory-processing sensitivities. They knew from their own experiences that emergency room visits were difficult for all involved — a patient on the spectrum, their caregivers and the hospital staff.
Children with autism or sensory processing sensitivities can tend to like structure and are very sensitive to different stimuli. The wide range of autism indicators can include those who are entirely nonverbal.
"But what ties these people together is their communication," Dr. Perlin says.
She recalls witnessing a child with autism who had been injured in a drive-by shooting. The ER nurses' remarkable care for that child confirmed her belief that there was a way to best serve these patients.
"The pediatric nurses were just incredible," Dr. Perlin says. "I watched them adapt to this kid who was nonverbal … I thought, why don't all ERs adapt to the child to make it easier?"
She believed there was a way forward to help innovate and improve the care experience.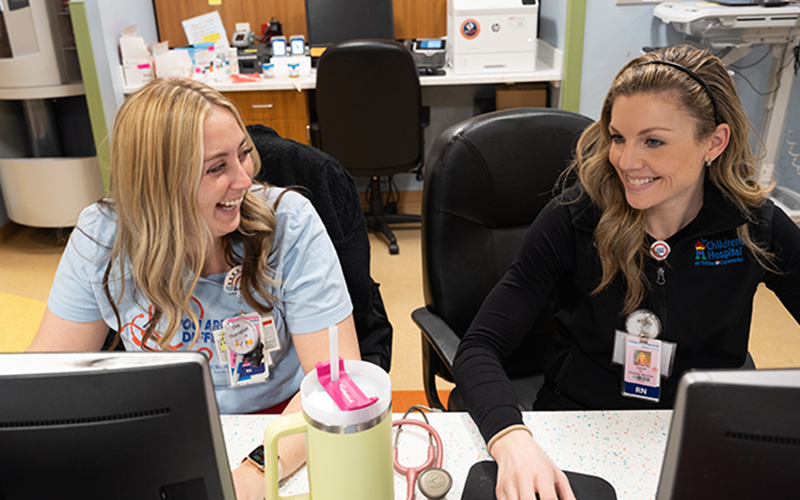 Donna created a program that gives caregivers a "toolbox" of skills for assisting young patients with sensory issues. Not only is an ER an unfamiliar place, but, from the moment patients walk in, there can be loud noises, monitors, new people and a lot to take in.
This scenario can also be difficult for family members who are in a waiting room with children who may be in a state of distress. In these situations, it is also hospital staff, ranging from technicians to nurses to physicians, who may feel out of their depth. It can be overwhelming if a child is experiencing sensory overload.
Once Dr. Perlin created a blueprint for improving treatment for these patients, she discovered that the medical community was supportive and eager to participate. Leaders at The Children's Hospital at Tristar Centennial Medical Center wanted to adopt it throughout the hospital, not just in the emergency department.
"The more we started talking about it, the more people would come out of the woodwork — 'I have a child with autism; I have a nephew with autism; I have a grandchild with autism,'" says Dr. Perlin. "Our team was formed by staff members who all understood why this was important."
Small Changes, Huge Impact
The program recognizes and details the challenges that caregivers may face, and offers common sense and relatively inexpensive solutions.
Donna says it's mainly about teaching people about autism. The program teaches individuals how to do things differently and what to do when things go wrong or how to make a situation better.
All-inclusive instructional sessions are offered to nurses, laboratory and radiology technicians, and registration staff. Those sessions were eye-opening. Representatives of Autism Tennessee reviewed the program and helped with training.
"There's a huge variety of perceptions," Dr. Perlin says. "So many people don't really know what autism is. They don't really understand that the sensory issues are huge and that just mild changes can make a huge impact on the kids."
Participating hospitals began providing questionnaires for incoming patients and their parents to determine any special needs and set aside rooms with special lighting, or beds with tents designed to limit sensory overload and provide a soothing environment.
Staff visits were "bundled," keeping interruptions to a minimum, and signage was changed to notify staff of a patient's condition without violating confidentiality guidelines.
"We empowered the staff to be able to take care of these kids," she says. "It was incredibly positive from the nursing standpoint as well as from the family standpoint."