Advanced transport services on the ground and in the air set the stage for positive patient outcomes.
A crucial element of superb healthcare is getting patients to the best facilities as quickly as possible, regardless of human-made or natural obstacles. That sense of urgency often demands emergency medical transportation. HCA Healthcare is assuming a leadership role in this field, establishing key partnerships with contractors in 17 states — from Colorado to Texas to the East Coast — featuring high-tech helicopters, fixed-wing airplanes and ambulances that resemble rolling emergency rooms.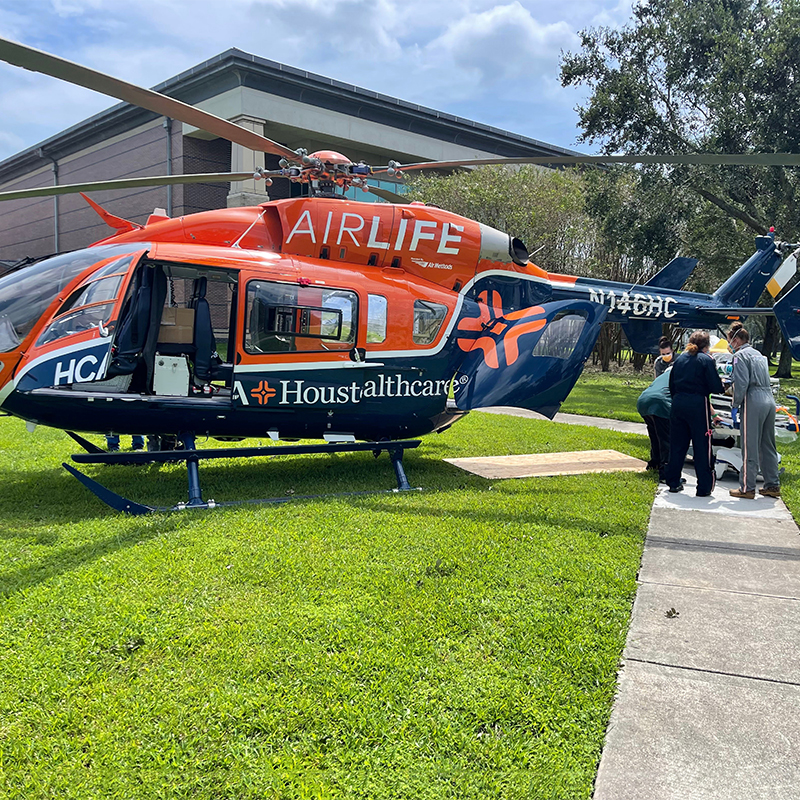 One such program — Mountain Area Medical Airlift (MAMA) in North Carolina – is now a wholly owned department of HCA Healthcare. Other operators have been long-term partners: These include AirLife Denver in Colorado; Medical City Healthcare, Methodist AirCare and HCA Houston Healthcare AIRLIFE in Texas; HealthStar One specialty transport team in Missouri; SkyLife in Tennessee; and AirCare Eagle in Virginia.
Staffed by more than 500 highly trained HCA Healthcare colleagues, from nurses to paramedics, these programs are responsible for transporting some 90,000 patients annually (combined air and ground). Patients often require critical care, from neonatal care to treatment for a heart attack.
"That, to me, is the true core of transport: moving super-sick patients who need extended quality of care in a safe and efficient manner," says Brian M. Leonard, MBA, director, Business Operations, AirLife Denver, who has more than a decade of experience in the field. "That's how I look at it."
"My role on the operations side is to either find resources or remove obstacles to let our teams be successful," Brian adds. "It's really the people: the front-line clinicians, the EMTs, the pilots, the mechanics and the communications specialists."
Based on the success of these programs, HCA Healthcare is exploring opportunities to expand its transport capabilities, says Jessica Layne Picanzo, MSN, EMT-P, CFRN, CMTE, the newly appointed director of Enterprise Emergency Operations and Medical Transport. "As we continue to grow, we continue to add different air medical programs as well as ground programs."
We serve as a vital part of the continuum of care. It's just that we do so in a mobile environment. It's that challenge that our crews thrive on.

— Dick Whipple, director of medical transport for Mountain Area Medical Airlift (MAMA)
The goal, explains Jessica, is to unite these programs so that HCA Healthcare transport experts can share information and best practices "across the board in some type of unified manner."
One of those experts is Dick Whipple, director of medical transport for MAMA. HCA Healthcare assumed ownership of MAMA when Mission Health was acquired three years ago. Exceptional air and ground transport programs are a clear need in many areas, says Dick. "We serve as a vital part of the continuum of care. It's just that we do so in a mobile environment. It's that challenge that our crews thrive on."
To provide that measure of care, HCA Healthcare transport programs combine highly motivated colleagues with exceptional instruction. 
"Most people in this profession have [always] wanted to do this," says Jessica. "It's a field that's filled with passionate people who want to provide this higher level of care, which means that they're going to pursue higher levels of education and training to be able to provide that care."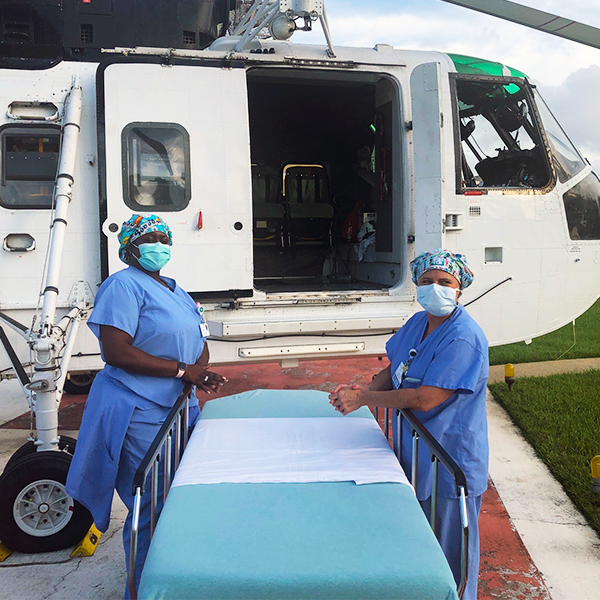 That commitment is complemented by stringent work requirements and extensive training that apply to all nurses, nurse practitioners, paramedics and physician assistants who work these transports.
"For a nurse, they need three to five years of ER or ICU or combined experience," says Jessica. "For a paramedic, three to five years of high-volume 911 service or an intermix of hospital and ER 911."
Brian adds that there are no exceptions to those minimum work requirements. Candidates then attend a new-hire academy, where they gain additional training with preceptors or clinical coaches for several months.
"I've worked for HCA Healthcare for the last two years as a flight nurse, and any time we've needed anything, resources were there," says Chris Wallace, R.N. "All we've had to do is ask, if we needed equipment, guidance, education or anything like that. I've never had to worry about that."
Eyes and Ears on Hurricane Ida 
This past December, HCA Houston Healthcare's AIRLIFE teams in Texas traveled to New Orleans, La., in the wake of Hurricane Ida. Facing vast stretches of destruction, power outages, and stifling heat and humidity, the crews transported more than three dozen patients — including 12 neonatal intensive care unit (NICU) babies — to safety. Below is an eyewitness account from that extraordinary transportation effort. 
I've taken care of NICU babies for more than 25 years. While we were getting into the helicopter, some neighbors were watching the rescues. There was a little girl who waved to us, and it was really sweet, because she was getting to see how these babies were taken care of and that they were being taken to a safe place."Stewardship 

— Jana Zimmerhanzel, Inpatient Nursing Director HCA Houston Healthcare Clear Lake, Webster, Texas
Read more about these transport teams in action and their response to Hurricane Ida in New Orleans here.
A keen focus on superior training also guarantees that HCA Healthcare is meeting its obligation to the healthcare field in general. "Not only is our responsibility to promote the clinical quality that HCA Healthcare offers, but it's also to be good stewards of the field," says Brian. 
Jessica says her goal is to provide all the resources required for the enterprise to offer safe, quality patient transport while making sure it's done in a manner consistent with HCA Healthcare's mission. "The goal for 2022 is to bring everybody to the table so that they can do this together. That way we can help pave the way and reduce any barriers for any of our programs that are seeking to uphold this mission on a daily basis."