Giving, volunteering and helping others define not just what we do, but who we are.
Healthcare administered without compassion? Impossible. HCA Healthcare's approximately 275,000 colleagues embody compassion. It's in our collective core. During a life-altering pandemic, it has become more important every day to step up and care for one another, for patients and for those in the communities we serve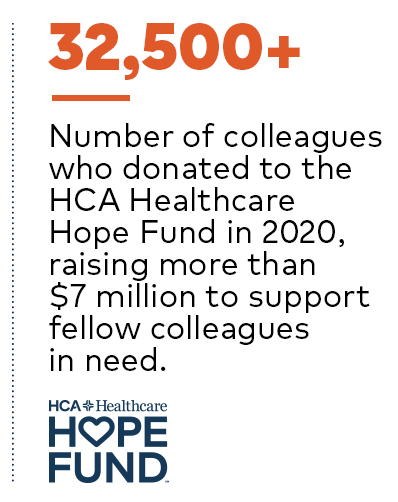 The Numbers Also Spell Humanity
What does it look like — compassion in action? The numbers supporting the efforts of our colleagues, while they can't tell the entire story, are impressive.
In 2020, some 38,000 HCA Healthcare colleagues made direct charitable donations, totaling almost $19 million (including HCA Healthcare matching funds) to help approximately 4,200 organizations, which was an increase of roughly 10% over the previous year. Additionally, the HCA Healthcare Foundation distributed roughly $5.5 million in grants — most were unrestricted operating grants to help with the pandemic response — to 166 nonprofits.
In general, the Foundation provides support in three critical areas: leadership through colleague board service, financial support through direct grants and by matching colleagues' charitable contributions, and service through colleagues who volunteer their time and talent.
"The very mission of the Foundation echoes the purpose of HCA Healthcare: 'a commitment to the care and improvement of human life,'" says Joanne Pulles, president of the HCA Healthcare Foundation. "The Foundation as a grant-making institution as well as the colleague incentives that amplify our colleagues' decisions to invest in the nonprofits they care [for] allow HCA Healthcare — as an organization and as a collective of individuals — to make a positive impact in every community we serve."
And still, HCA Healthcare's commitment to its communities goes well beyond the efforts of the Foundation, Joanne notes. "Giving, serving, leading and learning are key components of our approach to helping every colleague engage in a meaningful way with their community."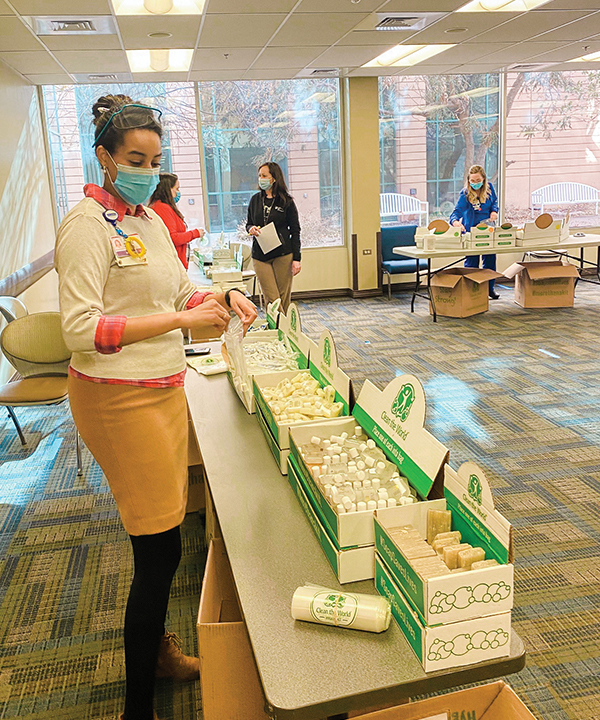 Active volunteering was also noteworthy last year, with more than 5,200 colleagues donating 83,000+ hours to almost 3,000 organizations across the country.
Those actions would undoubtedly warm the heart of HCA Healthcare co-founder Dr. Thomas Frist Sr., who once said, "Be happy in your community. Be active. There is so much good to do in this world and so many different ways to do it."
As Dr. Frist suggested, that compassion for the places we live and work can take various forms. More than $225,000 — targeted for diversity and inclusion — was raised by colleagues through social justice matching gifts. One event had an especially high profile. Partnering with the Cleveland Clinic during last fall's presidential debate at Belmont University in Nashville, Tennessee, HCA Healthcare provided COVID-19 testing and screening as well as education and enforcement of health rules, including a mask requirement.
Dr. Jonathan Perlin, chief medical officer and clinical operations group president, says HCA Healthcare was well qualified for the role, having not only the resources but also the "expertise honed through experience refining safety protocols and protection measures since the onset of the COVID-19 pandemic."
In late fall, 95 HCA Healthcare facilities located in 18 states hosted "Crush the Crisis" Opioid Take-Back events that resulted in the collection of more than 13,500 pounds of unused or expired medications, the equivalent of approximately 9.3 million doses.
A week later, the virtual Hack for the Community event — another HCA Healthcare Foundation initiative — featured 200 volunteers connecting with 30 business partners and contributing 3,500 hours to devise technology solutions for 14 Tennessee-based nonprofits. The event inspires IT talent to think outside the box to solve problems and give back to the community, and it connects organizations to much-needed tech resources.
Be happy in your community. Be active. There is so much good to do in this world and so many different ways to do it.

— Dr. Thomas Frist Sr., co-founder, HCA Healthcare
Pictured at top: Colleagues with Nashville-based Physician Services Group give back at a tree-planting volunteer project.