HCA Healthcare veteran colleagues say military training has helped them respond to the demands of the COVID-19 pandemic.
Joe Rogers and Kelli Wray have served on the front lines as soldiers deployed in the Middle East. These days, they're back on the front lines fighting a new battle closer to home: the COVID-19 pandemic.
Both veterans say their military training helped prepare them for what needed to be done when COVID-19 emerged as a health crisis in the United States.
Joe trained and ran a company of soldiers and medics for the U.S. Army for five years before becoming an HCA Healthcare colleague. Now he's a medical intensive care unit charge nurse at TriStar Summit Medical Center in Hermitage, Tenn.
After earning her bachelor's degree, Kelli Wray joined the U.S. Air Force Reserve as an aeromedical evacuation flight nurse and served in Iraq and Afghanistan. She was a former assistant chief nursing officer at Southern Hills Hospital and Medical Center in Las Vegas. This month, she begins a new role as chief nursing officer at West Hills Hospital and Medical Center in West Hills, Calif.
Joe and Kelli are among 40,000 veterans, active-duty service members and military spouses hired at HCA Healthcare since 2012 in clinical and nonclinical roles. This Veterans Day (Nov. 11), we want to recognize and thank the men and women who served our country not only during times of war, but also during the COVID-19 pandemic.
Read more about Kelli and Joe below.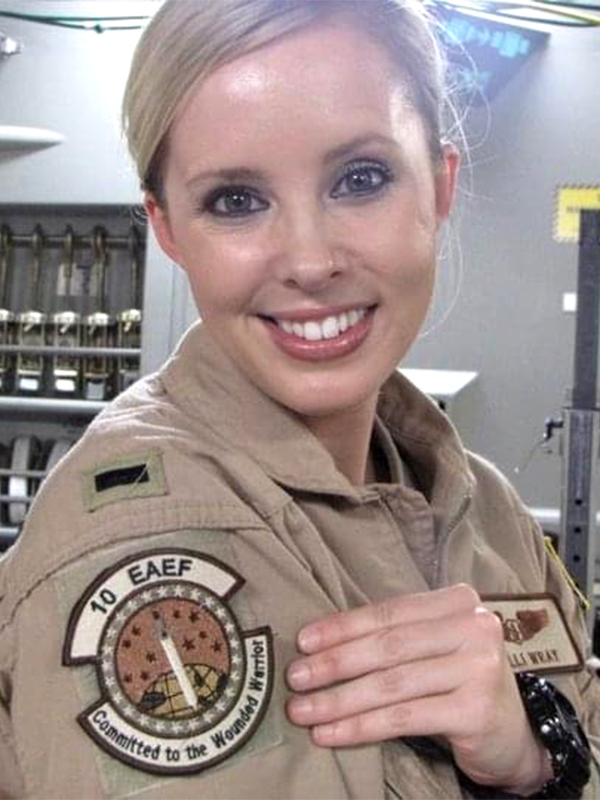 Brother serves as inspiration
It was Kelli's brother, Staff Sgt. Geoffrey Burleson, who inspired her military career. Enthralled by his heroic tales from the front lines, Kelli never questioned that she must also enlist.
Kelli was an aeromedical evacuation flight nurse in both Iraq and Afghanistan, successfully transporting more than 350 wounded warriors home.
"To know that there are few bases in the Middle East that I haven't been called to take patients out of is so rewarding," she says. "I consider myself blessed to have been able to impact so many soldiers' lives."
She became adept at saving lives and healing the wounds of gravely injured soldiers. But on her return home, she encountered a wound she couldn't treat. Her beloved brother, Geoffrey, took his life after a battle with post-traumatic stress syndrome (PTSD).
"On March 9, 2016, my brother died from a wound I never saw: PTSD, the invisible wound. This haunts me every day of my life," she says.
Despite his absence, her brother still influences her, guiding her toward a new mission: raising awareness about mental health issues for veterans.
"When we were at Arlington National Cemetery burying my brother, I saw the look on my niece's face, and I vowed to make a change," Kelli says.
That determination has taken her to Washington, D.C., where she's advocated for mental health resources for veterans. It also led her to HCA Healthcare.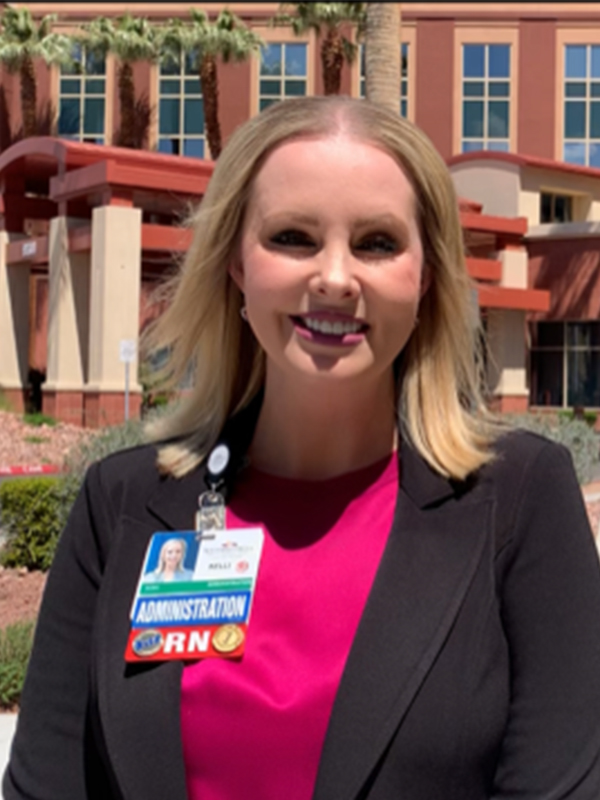 "My brother's battle with PTSD is one of the reasons I made a career change from a nurse practitioner to leadership," Kelli says of her role as chief nursing officer.
Her brother went to a behavioral health center but did not undergo a suicide assessment. He went home and immediately took his life, she says.
"My brother wasn't properly checked by a health professional just 30 minutes before he took his own life," Kelli says. "As a leader of my hospital, I want to ensure this doesn't happen to other families and that we, as a hospital, are looking for the signs and checking patients so we can save lives."
Although she's in a leadership role, direct patient care is still important to Kelli.
"With each patient I see, I think about my brother. I think about that last nurse that might have seen him. Every day I am working to save lives, and I just wish one of them could have been my brother's," she says. "I will continue, as I always have, to save lives, whether that be from COVID-19 or any other type of wound. As a veteran and as a nurse on the front lines of the COVID-19 pandemic, I just want people to know: We're ready to do the impossible every day."
---
Bringing healing to our hometown heroes
HCA Healthcare is proud to support REBOOT Recovery, an organization devoted to curbing the epidemic of veteran suicide in our country. Since 2015, HCA Healthcare has contributed more than $302,000 to REBOOT Recovery which provides trauma healing courses, training and online tools for Veterans, their families and first responders struggling with PTS(d) and who may be at risk of suicide.
---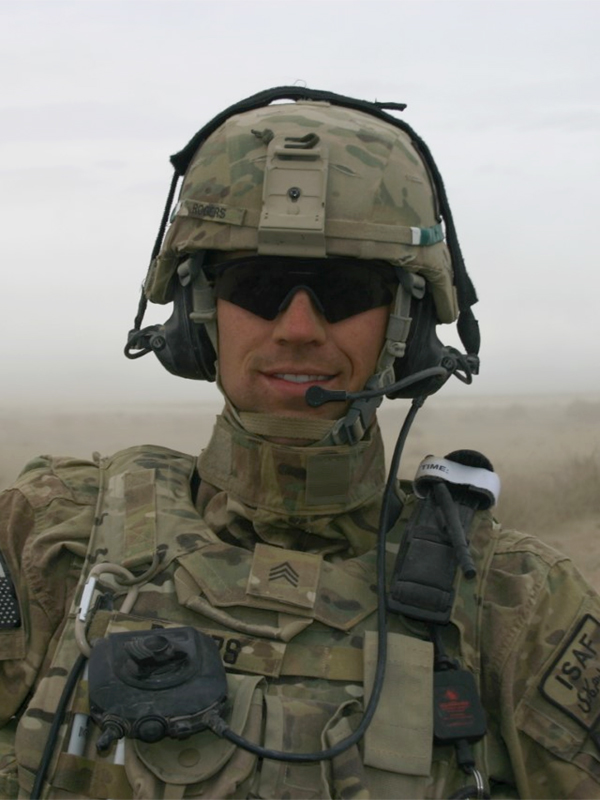 Trained for battle, prepared for a pandemic
It didn't take long for Joe to earn a certain reputation around TriStar Summit Medical Center.
"If it is an unpleasant task, I am typically the first person to jump in and offer to do it," Joe says. "Then it's easier to say, 'Come on, guys, give me a hand with this.'"
Whether it's tackling a difficult task or lifting spirits, he's become the go-to guy. In the military, he learned the valuable lesson that there is no job too big or too small. He carries that with him into the civilian healthcare sector. Joe served five years in the U.S. Army as a platoon medic and squad leader, and another five in the U.S. Army Reserves. He joined HCA Healthcare more than a year and a half ago.
"If you want to get things accomplished, clean the floors, take out the trash, run a code. I'll never ask someone else to do something I am not willing to do," he says.
Joe's military training even helped him acclimate to wearing personal protective equipment all day, a daunting daily routine for many care teams.
"I think my general baseline for being uncomfortable is a little higher," he says. "We would have to train doing everything in heavy masks, and that set a precedent for the worst it was ever going to be — and it helps you mentally prepare yourself."
COVID-19 has drastically changed everything for nurses serving in the medical intensive care unit (MICU). Joe developed an approach to entering a patient's room known as "backward planning." To ensure he makes the most out of every trip into a COVID-19 patient's room, everything has to be right the first time, because it's difficult to return.
"Gown up, and make sure the room is perfect so you don't forget anything. I think, 'I know what needs to be in the room, so what are the steps I need to take to ensure I make it happen?'"
Joe has also called on his military training to maintain an even calmer presence for patients and their families under these unusual circumstances.
"We literally became patients' only contact with the outside world," he says. "It was hard on patients, their families and us. Families think it is the worst situation; patients can't breathe, and we have to be the calming influence on everyone, even if we are also freaking out."
Paige Whitaker, director of critical care services at TriStar Summit Medical Center, says Joe is dedicated to leading his team in providing excellent patient care.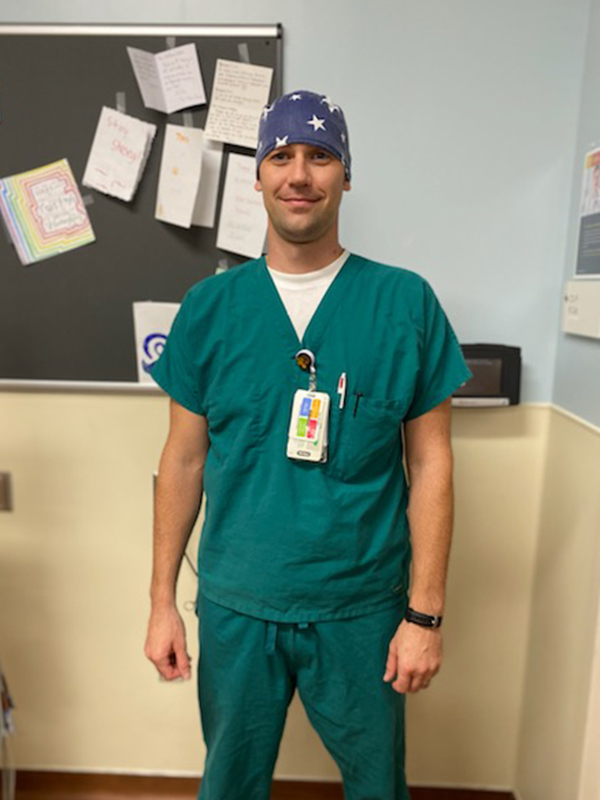 "When Joe is here, things run smoothly, and he brings a calmness to the air that really benefits the overall atmosphere here in the MICU," Paige says. "Aside from what he brings to his co-workers, Joe also has a special gift in how he interacts with his patients and their families."
When Joe sees other team members struggling mentally, he does what he can to lessen their load.
"You have to be that pressure relief — tell some jokes, make them laugh — do anything you can to raise their spirits, even if it is silly stuff. As long as they know they are not alone — it is not the end of the world. Perception of your situation really makes a big difference."
"If you want to get things accomplished, clean the floors, take out the trash, run a code. I'll never ask someone else to do something I am not willing to do."

— Joe Rogers, medical intensive care unit charge nurse, TriStar Summit Medical Center, Hermitage, Tenn.