A comprehensive approach that includes mental, emotional and physical support can help bariatric patients maintain weight loss.
Anisa Grantham, bariatric coordinator at HCA Healthcare's Memorial Health Surgical & Bariatric Care in Savannah, Georgia, knows what it means for patients to face a lifelong struggle with obesity. Anisa, who started her career in addiction and recovery counseling 30 years ago, transitioned to bariatrics in 2016. Now, in addition to clinical bariatric care, she leads workshops and a support group for patients. She advises, coaches and assists bariatric surgery patients with the knowledge and compassion of someone who underwent the procedure herself.
"I am passionate, and sometimes it gets the best of me. But I love what I do," she says.
Bariatrics has evolved significantly since Anisa's gastric bypass surgery in 2002. Programs now include more mental health support before and after surgery, and technology — the use of robotics — also makes bariatric surgery easier, safer and more effective. HCA Healthcare hospitals house more than 10% of all accredited bariatric surgery facilities in the country. Accreditation encompasses the independent evaluation and certification of treatment programs based on quality and quality-improvement activities.
Bariatric surgery involves a set of procedures — some endoscopic and others operative — that make an anatomical change to the gastrointestinal tract to help control hunger and increase satisfaction when a person eats. These changes accelerate patient weight loss.
"The weight loss then affects almost every organ system in the body, in terms of improving dysfunction or diseases," says Matthew Brengman, MD, medical director for bariatric surgery and associate chief medical officer for Parham Doctors' Hospital in Richmond, Virginia.
But while the surgery itself only takes about an hour, it's just the beginning of the journey for patients. That's when the rest of the bariatrics team becomes essential to a patient's success. A team of dieticians, nurse practitioners, patient navigators, physician assistants, counselors and social workers all collaborate with surgeons to serve bariatric patients. Their involvement before and after the surgery is instrumental in a patient's success. Only transplant surgeries come close to that level of involvement.
"Life really starts after the surgery," Anisa says. "We are more than a surgery. We are a program."
Life really starts after the surgery. We are more than a surgery. We are a program.

— Anisa Grantham, bariatric coordinator, Memorial Surgery and Bariatric Care, Savannah, Georgia
A comprehensive approach to bariatrics
Anisa's experience as a gastric bypass patient and her work with patients today reflect the overall evolution of bariatric care. Memorial Health Surgical & Bariatric Care's approach to bariatric treatment is one that supports its patients throughout their weight loss journey, whether they choose surgery or another means.
Oliver Whipple, MD, FACS, medical director of robotics and bariatrics at Memorial Health in Savannah, Georgia and associate professor of surgery at Mercer University School of Medicine in Savannah, Georgia, is a leader in the field. He'd like more people to understand that the surgery is safe and that it truly works.
Dr. Whipple developed a comprehensive program based on his own evidence-based research for those who do choose to undergo surgery. This work is also helping HCA Healthcare streamline and standardize the way that bariatric patients are treated. Surgery is a useful tool when it comes to weight loss, and the holistic care of patients includes lifelong changes to maintain their weight.
Patients also have nonsurgical options, including medically supervised weight loss and new medications. Just 2% of people who qualify for surgery follow through with it. Most people try losing weight through self-directed diets, says Dr. Brengman. Recently, more patients are choosing medications — especially injectable medicines — due to their success rate of a 10% to 15% total body weight loss.
Advances in how surgeries are performed have greatly changed the field. Options include endoscopic sleeve gastroplasty, where a surgeon shrinks and reshapes the stomach by sewing it from the inside; gastric band, in which a device is implanted to give an earlier sense of fullness; and sleeve gastrectomy, which is currently the most popular procedure. It requires removing about 80% of the stomach and reshaping it into a narrow tube. This gives patients an earlier sense of feeling full and decreases the hunger hormone in the stomach. Gastric bypass, which shrinks the stomach and reroutes the digestive process to suppress hunger, is the second-most popular procedure. These are just a few of several approaches to bariatric surgery.
One significant milestone in bariatrics is the transition from open surgery, in which incisions were larger and hospital stays longer, to laparoscopic surgery, where patients can go home the next day. The use of robotics also makes surgery safer for patients and easier for surgeons, allowing them to perform a greater variety of procedures. In time, it could help improve access to bariatric surgery, Dr. Whipple says.
"In my state chapter, we went from one year with nobody really doing robotics, to the next year where 80% of us are doing almost everything robotically," he adds.
With so many opportunities available to patients, clinicians – including Dr. Whipple – typically oppose bariatric procedures outside the country, which is a driving factor for medical tourism. Mexico is among the top countries receiving patients from abroad, according to the National Center for Biotechnology Information.
"The biggest problem with medical tourism is that these patients are denied the support that they need after surgery," Dr. Whipple says. "Bariatric surgery is most successful when the patient is actively involved with a multidisciplinary program after surgery. Bariatric medical tourism denies them this key piece of the puzzle."
Personal experience benefits others
More than 40% of U.S. adults have obesity, and more than 9% have severe obesity, according to the National Institute of Diabetes and Digestive and Kidney Diseases. Anisa explains that her experience with obesity is genetic and began in childhood. She went on her first diet before she was even a teenager.
When she became an addiction counselor, Anisa learned how sugar and other "feel good" substances tapped into the same reward system in the brain. It explained why some individuals can experience a weight increase when getting sober. Witnessing that correlation between food and addiction triggered her own understanding of herself.
"That's really what led me to dealing with my own history and therapy, and then, having surgery in 2002," she says.
More than 20 years ago, Anisa made the trip to Atlanta for her procedure. Although her pre-op meeting with the surgeon was brief, as those meetings were at the time, she left feeling confident and prepared. Post-surgery, she was required to attend four support group meetings. She still attends those meetings to this day for accountability and to provide support and education to others on the journey. At Memorial Health Surgical & Bariatric Care, virtual weekly support groups are offered as well.
At the time of her surgery, Anisa was 32 years old, weighed 318 pounds and smoked more than a pack of cigarettes a day. She lost 100 pounds within six months of having the surgery and achieved her goal weight within two years.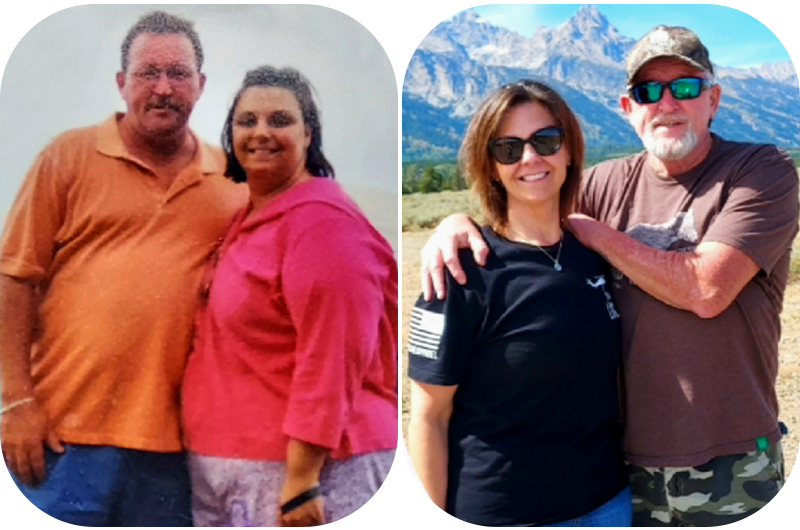 What she learned since that time is that, despite her weight loss, her obesity didn't end with the surgery. Maintaining a healthy weight requires significant lifestyle changes that include more conscious choices about what she eats, as well as regular exercise. Anisa's ongoing care also includes annual lab work and bone scans to check for vitamin deficiencies and other common characteristics in bariatric patients. Some bariatric patients also face mental turmoil in the aftermath of such drastic weight loss. Anisa has grappled with how differently others treated her once she lost her own weight. She found both the physical and mental changes significant.
"I didn't realize how difficult lifestyle changes would be," she says. "And it's not so much just about the relationship with food, but it really is about the relationships that we have with other people and what our role has been in those relationships."
These experiences inform how Anisa treats her own patients and arms her with the insight of someone who can relate to what they're going through. She is able to psychologically address emotional eating, the effects of trauma and transfer addictions.
For all the benefits that come with bariatric surgery, such as reductions in blood pressure, GERD/reflux, sleep apnea and diabetes, barriers persist in treatment because of the stigma around obesity. It can be difficult for patients to get the medical coverage needed for treatment. The National Institutes of Health declared obesity a disease in 1998. The Obesity Society followed in 2008, and in June 2013, it was also confirmed by the American Medical Association. Despite these acknowledgements, obesity is not valued in the same way as other diseases. Bariatric surgery remains an elective surgery and even an exclusion in some insurance plans.
"The American Medical Association has deemed obesity a medical condition. It's a disease that is comprehensive and complex and impacts the entire body," Anisa says. "We don't treat hypertension or diabetes with will power. We don't treat those conditions with mind over matter, yet we [society] ask patients to treat the disease of obesity with will power and motivation."
HCA Healthcare's medical plan covers bariatric procedures, including, but not limited to, banding, sleeve gastrectomy and gastric bypass, provided the procedure is medically necessary. Treatment options for colleagues are cutting edge and evidence based, Dr. Brengman says.
"COVID-19 put a [level of] stress on our workforce that is unprecedented. Stress is a recipe for weight gain," he says. "But we can do some work in prevention and therapy for those whose weight has suffered, because that is an important component of supporting our workforce. It's really quite remarkable."
Read more about bariatric benefits for colleagues below.
What is Covered by the HCA Healthcare Medical Plan?
What to know
Bariatric procedures, including, but not limited to, banding or stomach stapling, are covered, provided the procedure is:
Medically necessary
Precertified and approved by your plan's claims administrator
Performed at an HCA Healthcare facility.
In addition, a travel benefit is available to cover certain transportation and lodging expenses if the procedure is performed at an HCA Healthcare facility at least 100 miles from your home.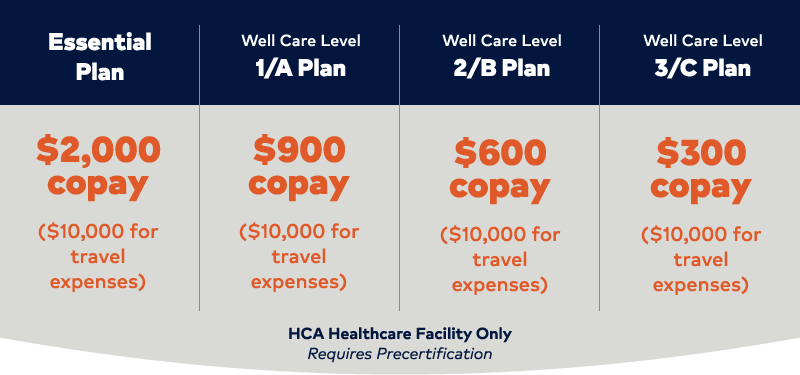 If you have a bariatric procedure performed at a non-HCA Healthcare facility, all related expenses, including hospital, surgeon, anesthesiologists, etc., are not eligible for coverage, and you will be responsible for 100% of the charges.
What to do
Call the Member Services phone number on your medical ID card to do the following:
Determine the benefits coverage that applies for your medical plan, including travel benefits.
Find out if you qualify for the procedure based on BMI and other criteria.
Learn about document requirements.
Identify locations that offer the procedure and are covered by your plan.
Precertify the procedure.
More weight management and well-being resources available
Discounts on gym memberships, nutrition counseling, meal kits, fitness trackers, online fitness classes, personal training and more through the Consumer Discounts program
Free Optum counseling services
Free Doctor On Demand behavioral health visits
Quit For Life tobacco cessation program
And more
Get details: Go to HCAhrAnswers.com, click Benefits: HCA Rewards and click the Wellbeing Hub link.
Note: Additional weight loss programs and gym memberships may be available at your location. Check local communication channels for details.