HCA Healthcare's trauma and emergency services continue to raise the bar.
With today's 24/7 news cycle, we are more readily exposed to a growing number of large-scale disasters, whether human-made or natural.
"Over the last five years, the number of emergencies our facilities have responded to is incredible, and it continues to increase every year," says Jake Marshall, MPS, CEM, FF/NRP, senior director of HCA Healthcare's Enterprise Preparedness & Emergency Operations. "Last year [2020], HCA Healthcare facilities activated their emergency operations centers to respond to more than 900 incidents. Even before the COVID-19 pandemic, we were in the high 800s."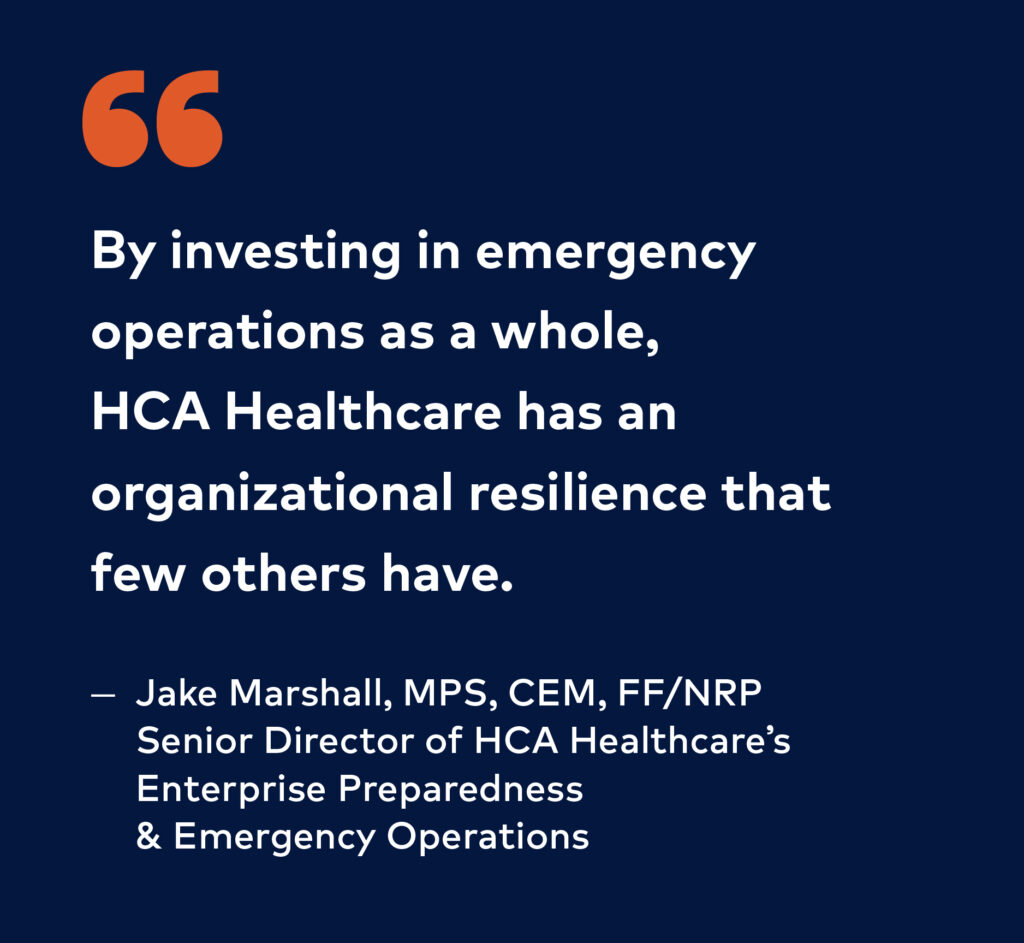 Jake is tasked with determining "how we can bring HCA Healthcare's scale and scope to emergency operations so that we're able to provide these resources and support in a much more efficient manner.
"We define an incident as any event that may have the potential to disrupt our clinical or business functioning," he says. "So it's not just our numerous responses to wildfires in California or hurricanes in Florida. Our facilities are constantly working with our community partners to prepare for large 'mass gathering' events."
Many HCA Healthcare hospitals play key community response roles for large events, such as [sports championships] or a presidential debate. Any time there's a large gathering of people, there are not only pertinent security concerns, "but also people naturally will have unfortunate medical emergencies," says Jake.
Then there is the reality of ever-changing factors in the communities served by HCA Healthcare.
"A lot of it has to do with growing populations," says Jake, adding that more people are moving to disaster-prone areas, such as coastlines at risk for storm damage and remote, heavily forested regions at risk for wildfires.
Michael Wargo, R.N., BSN, MBA, PHRN, CMTE, vice president of HCA Healthcare's Enterprise Preparedness & Emergency Operations, explains that it's the job of a specialized group at HCA Healthcare to identify potential threats and disasters and create response plans to address them so patient care isn't adversely affected.
The result of that job is the development of a network of individual emergency response plans customized for each HCA Healthcare facility. Collectively, the network constitutes a national emergency response plan, a readiness guide that requires almost constant review and revision.
"Every time we have an emergency at any level, we do what's called an after-action review, where we go through and look at the lessons we learned," says Jake. "What did we do incredibly well? What can we improve the next time?"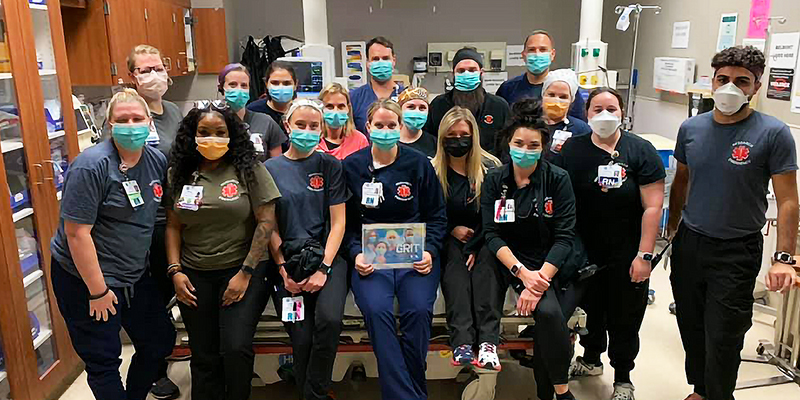 Greater Scale for Greater Scope of Care
"…because of the organization's scope and scale, those lessons don't just stay [internal]," Jake says. "We take those lessons and build them into our enterprisewide emergency and disaster response plans."
That scale is immense, says Michele K. Ziglar, MSN, R.N., vice president of Trauma Services and Clinical Operations Support. She has direct oversight of the clinical, administrative and operational elements of 106 trauma centers (more than 5% of trauma centers nationwide), which together treat roughly 105,000 patients annually (nearly 4% of trauma patients nationwide).
Trauma centers range from Levels 1 to 4, depending on the population and number of specialists required to be in-house or on call. Level 1 facilities, for example, have specialists in house, while a Level 4 is designed to stabilize patients prior to transport elsewhere for further treatment. Each facility plays a key role in providing and improving patient care.
"Right now, we have a central registry — the HCA Healthcare Trauma Data Center," says Michele. "We have close to 600,000 patients in it."
That information is shared with state and national regulatory agencies and the American College of Surgeons, collaborations that help drive valuable research and raise the bar of quality care. Mike explains that HCA Healthcare is committed to equitable patient care, which means emergency response plans must be tailored to suit the size and location of each community we serve.
That's why the emergency response plan for Del Sol Medical Center in El Paso, Texas — where 46 people were shot at a Walmart store in August 2019 (see page 15) — may differ from the plan for Sunrise Hospital and Medical Center in Las Vegas, Nev. (where, in October 2017, a lone gunman shot 411 people during an outdoor concert, resulting in a total of 867 injuries).
"From an enterprise level, our planning needs to be scalable across all communities," says Mike. "We plan for the population within a community for our everyday 'normal' trauma cases, such as motor vehicle crashes, even the occasional shooting. In Las Vegas, where you have a much larger population, we have to assume the risk is different. My job is to look at the risk of where our facilities are and anticipate our everyday volumes."
That responsibility doesn't change, even in the face of overlapping emergencies. Hurricane Ida, which devastated a number of Louisiana communities this past summer, is a perfect example. "As one of the worst storms to hit New Orleans was ravaging that community — 16 years to the day since Hurricane Katrina hit those same areas — our hospitals were still actively responding to the surge of the COVID-19 delta variant," says Jake. "By investing in emergency operations as a whole, HCA Healthcare has an organizational resilience that few others have.
"We make sure that, no matter the emergency, we are able to provide the exact same level of care to the patient at the bedside," he says. "Caring for and improving life is our mission, and our team is blessed to help our teams across the company do just that, no matter what."

A Texas Winter To Remember
By necessity, emergency response plans for HCA Healthcare facilities must be organic and able to adapt to ever-changing circumstances. Last winter in Texas, bitterly cold temperatures and power outages led to a number of broken pipes in community water treatment plants. Those damaged pipes created a severe water shortage that affected many local businesses, including HCA Healthcare facilities.
The emergency response solution at the time, according to Jake, was to have tanker trucks transport water to the hospitals, which were running on generators. But the subzero temperatures threatened to freeze the water in those tanker trucks, which were parked outside.
"We have a really intelligent, super-creative team at one of our facilities down there in Texas," says Jake. "They said, 'We're running these huge emergency power generators, and all the hot exhaust [they emit] is just blowing outside. What if we just drove the water trucks around and put them close to these exhaust outlets so the heat can keep the water in the tanks from freezing solid?' Boom."
That moment of inspiration led to updates throughout HCA Healthcare.
"With our scope and scale, we've taken that commonsense innovation and built it into a winter storm response plan that we have for the enterprise," says Jake. "Now, every hospital in our organization can benefit from that hard-won experience and that unique innovation."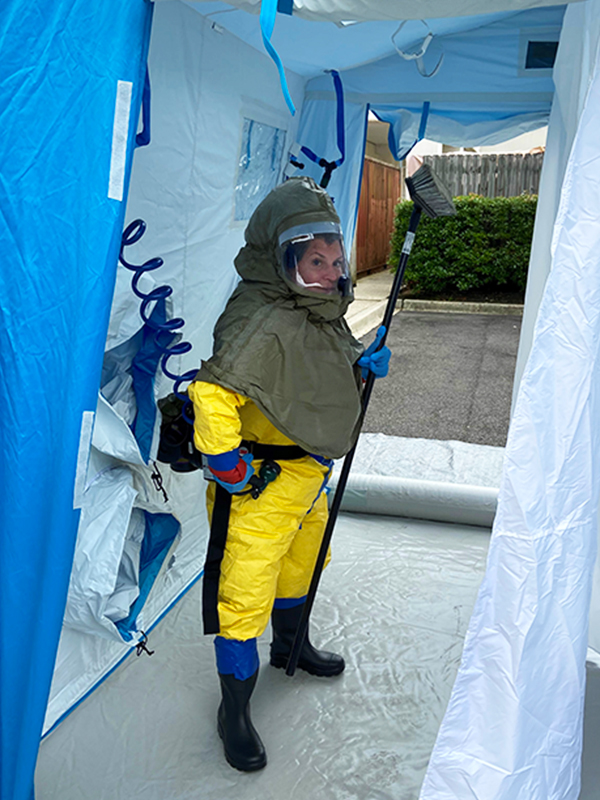 The Importance of Crisis Training
How do you improve the finest emergency response system in the healthcare industry?
You expand it to include next-level post-trauma care. Michael says new crisis-training programs are focusing on "crisis management and critical incident stress debriefing teams." Those teams will include behavioral health experts who are specifically trained to "go in and debrief our clinical staff, who talk to the folks who witnessed the tragedy and had to care for those victims. And they debrief our own staff, psychologically."
Similar training programs have existed in pockets throughout HCA Healthcare, but the current plan is to formalize them and apply them across the enterprise. Stephen Flaherty, M.D., medical director of Trauma at Del Sol Medical Center in El Paso, Texas, says hospitals can learn from the military, which has developed programs for personnel who have served in some of the world's most dangerous places.
Dr. Flaherty, a 24-year Army veteran who led Del Sol's response to the 2019 mass shooting at Walmart (see next section), says his own experience dealing with mass casualties and the stress of trauma care, such as the pandemic, has taught him the importance of resilience.
"Enjoy your time with family, make sure to eat well, and get your rest. Do something fun," he says. "Whatever you do for personal religion or spirituality, make sure you make time for that, too. You have to give time to all of those things in addition to giving time to taking care of your patients, because if you don't, then the impact of this, long-term, is going to be much worse. We have to pay attention to these things."
Before the hospital mass-casualty plan could be activated, people were already there. They didn't just shrug their shoulders and say, 'It's my day off; somebody else will take care of this.' People said, 'Wow, my community needs me. I'm on my way.'

— Stephen Flaherty, M.D. Medical Director of Trauma Del Sol Medical Center El Paso, Texas
Shattering the Calm in El Paso
On a Saturday morning in August 2019, a lone shooter walked into a Walmart in El Paso, Texas, and began shooting. In the blink of an eye, 46 people had been wounded, 23 mortally. Eleven victims were taken to Del Sol Medical Center, a Level 2 trauma center, and another 13 to University Medical Center of El Paso.
Dr. Flaherty learned about the shooting before the news hit the airwaves.
"Everybody knew about this by way of social media before there were any official announcements — that something was going on," he says. "Before the hospital mass-casualty plan could be activated, people were already there. They didn't just shrug their shoulders and say, 'It's my day off, somebody else will take care of this.' People said, 'Wow, my community needs me. I'm on my way.'"
Del Sol CEO David Shimp was notified of the shooting by Dr. Flaherty via text and knew immediately that the hospital's emergency response plan was kicking into high gear. His first phone call was to the chief operating officer at HCA Healthcare sister facility, Las Palmas Medical Center, 10 miles away.
"I said, 'I don't know how many victims there are, but we're going to need your teams. We're going to need your anesthesiologists, and we're probably going to need extra trays and sets,'" says David. "And, sure enough, as part of the HCA Healthcare family, they showed up in force as well."
Not just physicians and nurses, but colleagues from every department at the facility, including therapists and technicians, who knew intuitively what to do.
Jorge Mendoza, an emergency department (ED) technician, prepared transfusion sets in the trauma bays. Larry Reese, OR materials management coordinator, made sure the ORs had bags of saline for all necessary flushes. Del Sol's pharmacy director, Christina Sanchez, set up satellite pharmacies in the ED, OR and Intensive Care Unit (ICU) with the necessary drugs and medications for a mass-casualty incident.
"It was just this unbelievable outpouring of how we came together as a healthcare community," says David.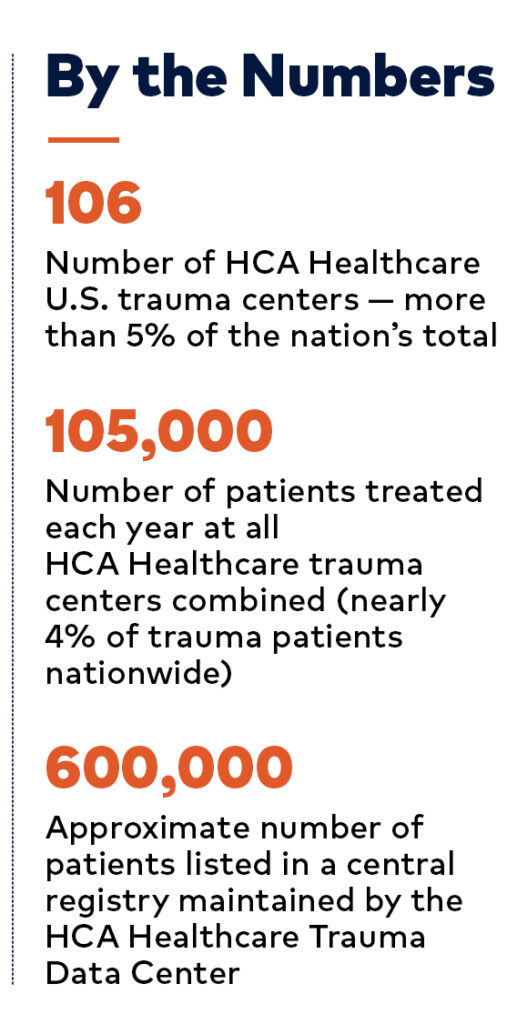 The hospital had seven operating rooms engaged simultaneously, while other staff members performed triage or other assessment duties to make sure the higher-risk patients were cared for first. The Del Sol response was exceptional but not unexpected; every hospital nationwide is required to hold biannual disaster drills covering a wide range of incidents.
In October 2018, Del Sol Medical Center participated in a coordinated statewide exercise with other facilities in Texas to deal with simulated coordinated attacks on multiple cities. Then, when faced with a real-life disaster, that hospital's emergency plan "came together perfectly," says Dr. Flaherty. "It really did."
"I'm very proud of the staff for their professionalism, responsiveness and expert medical care. Really it was across the whole hospital. Thinking back, we all realized that we had a response before we were asked for a response."