An advanced new data consortium makes innovative use of COVID-19 metrics.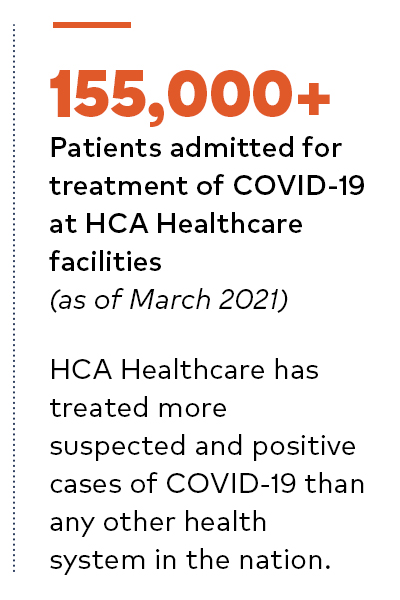 When we think of healthcare, we often think of hospitals, nurses and doctors. But knowledge is an undeniably powerful tool in the medical field. And the more knowledge — the more data — that healthcare entities, research organizations and academic institutions can share, the more effective medical professionals can be in caring for patients.
The latest example of this vital synergy between medicine and research is our COVID-19 data consortium known as CHARGE (Consortium of HCA Healthcare and Academia for Research Generation). Launched just this year, the partnership of public and private research institutions is designed to use HCA Healthcare's vast amount of data on COVID-19 hospital care not only to improve patient outcomes, but also to increase public knowledge. 
"We believe [CHARGE] has the potential to both rapidly produce new evidence to improve the safety and quality of care for people with COVID-19 and serve as a model for the development of a national learning health system," says Dr. David Meyers, acting director of the federal Agency for Healthcare Research and Quality (AHRQ). The CHARGE institutions — including AHRQ, HCA Healthcare's own Sarah Cannon Research Institute, Columbia University, Johns Hopkins University, Duke University and Harvard Pilgrim Health Care Institute — will have access to the COVID-19 data in a research program directed by the HCA Healthcare Research Institute. 
"Access to [our] vast data repository will greatly accelerate the pace of discovery of new knowledge," says Dr. Shoshana Herzig, director of Hospital Medicine Research, Beth Israel Deaconess Medical Center in Boston. "To put it succinctly: This initiative will help save lives."
"Patient care needs to be focused on data when available, and the data needs to be made easily available to practitioners for their use," says Dr. Russell E. Poland, Ph.D., Clinical Operations Group, and assistant vice president of HCA Healthcare's Extramural Research and Collaborative Partnerships. "Unfortunately, many decisions are not based on data but on 'feelings' — or even worse, bad data."
Patient care needs to be focused on data when available, and the data needs to be made easily available to practitioners for their use

— Dr. Russell E. Poland, Ph.D., Clinical Operations Group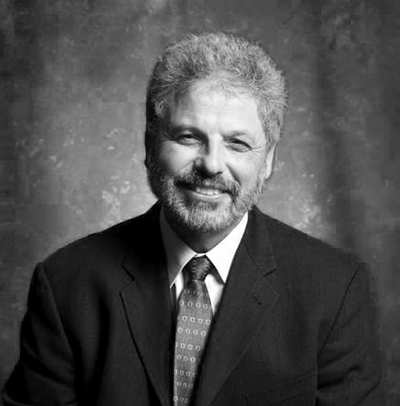 Dr. Poland is in an ideal position to assess the benefits of these collaborations. His vast experience in medicine includes two decades as a faculty member at the David Geffen School of Medicine at UCLA, where he was involved in basic clinical and translational research in areas ranging from brain development to pharmacogenetics. He later served as president of the Texas Health Research & Education Institute. He joined HCA Healthcare in 2016 as president and chief research officer of the nonprofit research institute known as PACE: Partners for Accelerating Clinical Excellence. 
"The data consortium came about because HCA Healthcare had more COVID-19 data than the researchers could analyze," says Dr. Poland. "In addition, some of the academic medical center researchers have cutting-edge approaches to data analysis. The consortium is a form of collective intelligence or crowdsourcing that hopefully will help us to better understand COVID-19 and its treatments. A win-win for all."
As a learning health system, HCA Healthcare collects and analyzes data from more than 32 million annual patient encounters. At the outset of the pandemic, we created a COVID-19 registry that has captured data from more than 110,000 suspected and positive COVID-19 patients.
Because HCA Healthcare is committed to sharing data, physicians engaged in research can generate findings that apply not only to their own patients, but also to patients everywhere, Dr. Poland explains. That research leads to improved medical practices, and, ultimately, even better patient care.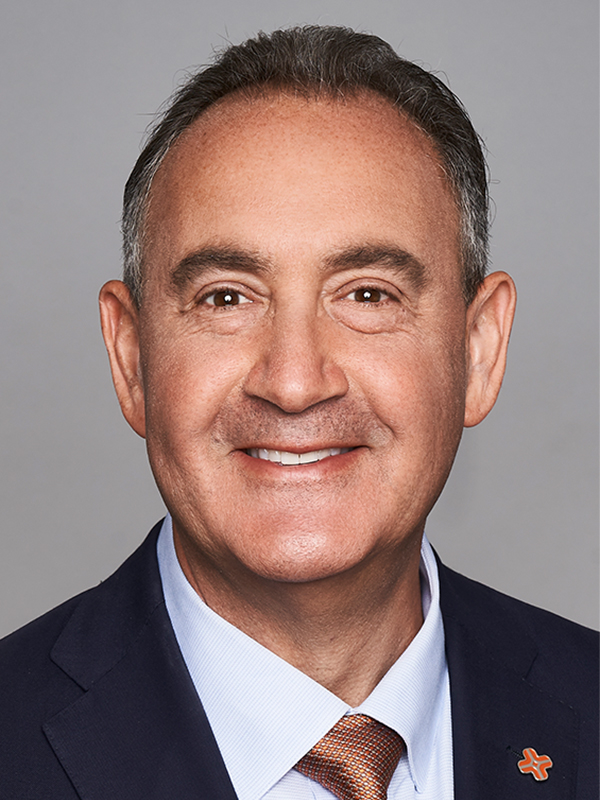 COVID-19 Versus the "Five S" Formula
In the fall of 2020, Dr. Jonathan Perlin, chief medical officer and president of clinical operations for HCA Healthcare, told the industry publication Modern Healthcare that our organization is committed to the "five S" formula for managing COVID-19:
Spikes
Analyzing community trends to help meet the demands of a surge in the disease
Space
Increasing bed capacity by managing space in our facilities 
Supplies
Maintaining adequate personal protective equipment and lab testing supplies
Staffing
Ensuring hospitals have enough nurse, physician and respiratory therapist coverage 
Support
Having enough life-support equipment, such as ventilators
Key to that analysis of community trends, according to Dr. Perlin, is reliable data — the use of which is considered operational, or putting the results of the research into action.
"We hope that everything we're doing has immediate practical results and implications," he says. "The COVID-19 study is an important area because of the nature of COVID-19 and how it came upon us.
"This whole consortium, and the way it's been set up, will allow research into a host of other areas, other types of surgeries, behavioral health and other hospital-related service lines. It's important by itself, but it's also a pathway to the future."